Impact Point
(2008)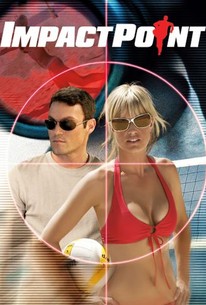 AUDIENCE SCORE
Critic Consensus: No consensus yet.
Movie Info
Beverly Hills 90210 alum Brian Austin Green stars as a reporter with a secret in this thriller concerning a professional beach volleyball player who's preparing for the biggest match of her entire career. All Kelly Reyes (Melissa Keller) ever wanted was to become a professional volleyball player, but the moment mysterious reporter Holden (Green) walked into her life, strange things started to happen - not just to her, but everyone she knows as well. Now, as the big match draws near, Kelly does her best to forget her suspicions about Holden and focus on winning. Could it be that Kelly is losing her mind, or is there something truly sinister about the handsome reporter who's been following her every move?
Rating:
R
Genre:
,
Directed By:
Written By:
On DVD:
Runtime:
Studio:
Audience Reviews for Impact Point
Beach volleyball player meets stalker. Melissa Keller and Kayla Ewell trained several hours per day in order to perform proper beach volleyball techniques for the film. They deserve praise for doing a great job. This did not prevent the director from shooting a scene in which they pass the ball with their hands 5 or 6 times in a row. (You pass with your forearms). They are great looking ladies though and Keller has a few rear nude shower scenes that show off her tan. Wow, Ive already resorting to reporting nudity in an effort to avoid completely dismissing this one. If the writer and director put as much into the film as Keller and Ewell did training - this would have been one hell of a movie. Unfortunately the movie is not about volleyball. If you like run of the mill TV crime dramas you won't mind this one. You also won't recommend it to your friends. There's nothing terrible about the cast or acting and nothing memorable either. Brian Austin Green phones in a decent Ray Liotta imitation as the stalker and the rest of the cast did their best with a mediocre script. The "Training for" special feature is by far the best thing on the disc. It shows Keller and Ewell seriously training on the beach. That lasts about 5 minutes. If they had cut out the film and just showed the women training for 1 hour and 25 minutes - I would highly recommend the DVD. I can't recommend the other hour and 20 minutes. If you are looking for a good movie about beach volleyball - it hasn't been made yet. Don't waste your time on "Sideout" or "Beach Kings" either. Sadly, this was the best of the three.
Rick Jansen
½
Better than I thought, the acting was a little off sometimes, but it was bearable. Brian Austin Green was a nice surprise.
Andreia Cordeiro
Super Reviewer
It was pretty decent, it had me on the edge of my seat at times the acting was alright but it felt like TV episode acting. It has a bit of suspense, a bit of minor violence, a scary character, all overlaid onto a professional beach volley ball setting. I found it entertaining and watchable.
Discussion Forum
Discuss Impact Point on our Movie forum!