Imperial Dreams
(2014)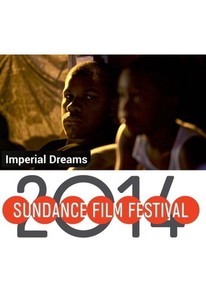 Movie Info
A young father returns home from jail eager to care for his son and become a writer, but crime, poverty and a flawed system threaten his plans.
Critic Reviews for Imperial Dreams
Audience Reviews for Imperial Dreams
½
This shows just how much of a talent John Boyega is and why he went on to do bigger things. You may think you know the story of the futility of life after prison, but this is a fresh approach, that actually moves you more than you may realise.
Ian Walker
Super Reviewer
After Attack the Block, but before Star Wars: The Force Awakens, John Boyega was already proving himself to be a star. Before he became a household name in 2015, playing the character of Finn, he had also acted in a Sundance darling that nobody really talked about, until now. Back in 2014 when this film was released unto the film festival circuit, even people like J.J. Abrams watched it. Rumour has it that Boyega's role in this film is what landed him the part in Star Wars: The Force Awakens, but that hasn't been officially confirmed. That being said, if that were true, I totally see why. With hardly any score, very few tricky camera techniques, and little to no action, Imperial Dreams relies solely on the performances to carry the story along. Does it work as a feature film? Yes, and here is why it is a damn fine one. After being showcased in big film festivals like Sundance, Imperial Dreams very quickly fell off the radar after it wasn't picked up by a distributor. Luckily, it has found a safe place on Netflix, which is where I think it belongs. Due to its quiet and slow pace, I don't feel as though it would've attracted a large audience on the big screen. Although it's a mere 87 minutes in length, it actually does feel its length at times. Many people complain about sitting in a theatre for a long period of time, and while this film is not long in the slightest, it can feel it. For these reasons alone, I think Netflix is the perfect place for a film like this. After being released from prison for unknown reasons (even though they are hinted at), Bambi (John Boyega) returns to his hometown, where is mother is a drunk, he must live out of his car with his son, and his brother, who has a decent place to stay, is not allowed to provide him with shelter. Still having to deal with the law and running away from gangs to protect his son, this film feels very grounded in reality and doesn't hold anything back when necessary. Very short and to the point, this film is able to get its message across very easily and very effectively. Even though this film concludes in a sad way, you can totally see why it happens and realize you really are just watching a slice of life unfold. If Boyega's performance in Imperial Dreams is any indication of how he will continue to progress as an actor over the years, we may just have another Denzel Washington on our hands, which is funny, due to the fact that he looks like he could literally be his son. Throughout this film, he naturally curses in front of his son, tears up on command, and reacts to certain situations in a way that I believe most people in those situations would react. Although he didn't receive nearly enough recognition for this role, it's definitely a testament that he won't just be a one-hit-wonder in the #StarWars franchise. This is an actor who is here to stay and if you want proof of that, then I highly recommend checking out Imperial Dreams. In the end, Imperial Dreams doesn't break any new ground when it comes to filmmaking, but the story it's telling is just as powerful as any big budget film being released nowadays, if not more. The performances throughout this film are all top notch and the script feels very inspired, as if the writer has experienced these specific things or knows someone who has. Although nothing spectacular, the direction is very well done and the camerawork is very raw, just like the story at hand. It's extremely slow and without a score it feels even slower, but all of the elements to tell an emotional story are present here. If you are above the age of 18, I highly recommend checking this film out. I can't see anyone below the age of 18 enjoying this film. Imperial Dreams is a very, very solid slice of life.
Imperial Dreams Quotes
There are no approved quotes yet for this movie.