Imprint
(2007)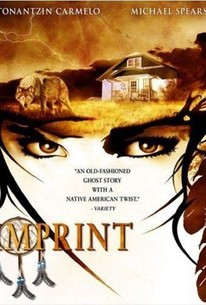 AUDIENCE SCORE
Critic Consensus: No consensus yet.
Movie Info
Critically acclaimed Native American filmmaker Chris Eyre (Smoke Signals, A Thief of Time) presents the supernatural thriller Imprint, directed by Michael Linn. The film tells the story of Shayla Stonefeather (Tonantzin Carmelo), a North American Indian attorney who once fled her cultural background and shunned the spiritual practices of her ancestors. After successfully prosecuting a Lakota boy in a difficult murder trial, Shayla now returns to her family's South Dakota reservation for the first time in many years, to tend to her dying father. Events take a dark and eerie turn when she is greeting by spirits that present foreboding and unwanted visions, forcing Shayla to reconsider her tribe's beliefs and way of life.
Rating:
PG-13
Genre:
,
Directed By:
Written By:
In Theaters:
On DVD:
Runtime:
Studio:
Linn Productions
Audience Reviews for Imprint
Native American culture and mores have always fascinated me. This is a supernatural thriller set on a South Dakota reservation. The acting is above average but not spectacular, and the effects are low-key but effective in building tension. The plot is moved by convenience more than a natural flow of the story. Attention to detail (like the cut on Shayla's forehead that keeps disappearing) is lacking, Watchable but could have been so much better.
Don Schick
Imprint (Michael Linn, 2007) Imprint is one of a handful of movies that have historically made it to my Netflix instant list by mistake-I thought it was another movie of the same name, rated it, couldn't figure out (hey, I was new to Netflix streaming at the time) how to unrate it, and so figured I'd watch it instead. (If you know me, you'll know that the movie I mistook it for was Takashi Miike's infamous Masters of Horror entry of the same name). In other words, I would probably have never found this movie except by accident. I'm glad I did. Plot: Shayla Stonefeather (Unearthed's Tonantizin Carmelo) has worked hard to leave her past on the rez behind, and she's now a successful prosecuting attorney in Colorado. She's got to tread lightly as the movie opens, however; she's prosecuting Robbie Whiteshirt (Joseph Medicine Blanket in his only screen appearance to date), a Lakota Indian from her reservation who has never once wavered in proclaiming his innocence. Rumors and allegations of conflict of interest abound from both sides. In the middle of the trial, Stonefeather gets word that her father is dying, and returns to the reservation to say goodbye. While she's there, Robbie Whiteshirt is murdered, and something seems to be reaching out from the spirit world to let Stonefeather know that she is more involved in this case-and rez life-than she thinks, or than she wants to remember. It's a low-budget indie flick, so if you go into it expecting some sort of Michael Bay cheesefest, you're bound to be disappointed. But take the movie on its own terms and it has some goods to offer, though it's not the best movie you will see in any given month. The plot is well-presented and believable enough if you believe in the spiritual-realm stuff, the acting is about baseline for a movie of this variety (in other words, I'm not going to count points off for, shall we say, some overly-enthusiastic amateurism), and Linn (Into His Arms) has a pretty good idea of what to do with a camera to get the mood and atmosphere he desires. No, the special effects aren't the greatest, but they show an inventiveness with a minuscule budget that has to be respected. This is not a bad little movie at all-give it a look. ***
Robert Beveridge
½
I very much liked this. I am totally into "Ghost" stories, this was pretty well done, surprised me actually. I very much enjoyed the Native American twist to it made a a little more interesting. I love all their believes and traditions. This was very entertaining and I'm very much looking forward for to come of these.
Simone S
Discussion Forum
Discuss Imprint on our Movie forum!