In Love with the Dead
(2007)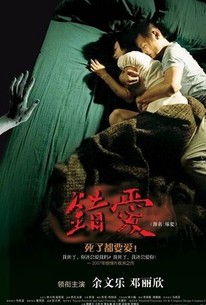 AUDIENCE SCORE
Critic Consensus: No consensus yet.
Movie Info
The line between reality and fantasy begins to blur as disease and disloyalty makes its way into one unfortunate household in this offbeat horror story from Hong Kong. Wai (Stephy Tang) is only in her mid-Twenties, but she's been diagnosed with pancreatic cancer, and her doctors say she has a slim chance of surviving. Ailing Wai shares a tiny flat with her younger sister Ping (Zeng Qi Qi) and her boyfriend Ming (Shawn Yue), who is endlessly loyal and does all he can to care for her in her time of need. Ming spends so much time looking after Wai that his boss fires him, but he soon gets a new job working for Fong (Yoka Yue), who he's known since they were in school together. Fong has long been infatuated with Ming, and as Wai's illness has put a damper on their sex life, he finds himself tempted into infidelity with his alluring new boss. Meanwhile, as Wai struggles with the toll cancer takes on her body and develops a curiosity about natural medicine, Ping spends more and more time escaping into the world of horror comics, and notices that a character drawn by her favorite artist is developing a certain resemblance to Ming. Chung Oi (aka In Love With The Dead) was the first solo directorial credit from Danny Pang, who had previously directed a handful of films in collaboration with his brother Oxide Pang.
Rating:
NR
Genre:
, , ,
Directed By:
Written By:
In Theaters:
Runtime:
Studio:
Universe Entertainment
Critic Reviews for In Love with the Dead
There are no critic reviews yet for In Love with the Dead. Keep checking Rotten Tomatoes for updates!
Audience Reviews for In Love with the Dead
½
This isn't either a good horror film nor a good film that explores the complexities of a relationship where one of them has a terminal illness. The movie does try to go into how it can affect a relationship and how Ming looks for comfort elsewhere. And how Wai, the one that has the terminal illness, reacts to that. The problem is that none of the leads are any good with each other. Individually they're adequate, if you can call it that, but they absolutely have no chemistry with each other as far as a romance goes. I never got into the story because the actors never really drew me in. I never really cared for any of them. Because of the fact that the "horror", which comprises like 20% of the film, is so minimal and the rest of the story is so lacking, this film can certainly be a chore to sit through. It's slow and dull for the most part and the movie can be corny and melodramatic at times and the sappy music does not help. I think the horror is where the film is at its best, but it's not like it's anything to write home about either. There's not really any scary stuff that happens at all. I suppose the twist could be considered "scary" and "disturbing" but, as it didn't really make any sense, the twist was very laughable to me. It wasn't as bad as the twist in Shutter, the remake, which I saw before the original film, where I literally burst into laughter, but the twist in this film was still funny but nonsensical. And the ending is tragic and not very good. It just, again, doesn't make any real sense to me. The film COMPLETELY betrayed itself when the horror stuff started kicking in because there's not enough of it throughout the film to truly have any effect whether positive or negative. If the film had remained an examination of how a couple deals through a very difficult time, perhaps with leads who actually had chemistry with each other, the film would've been so much better. The horror in the film just seems so forced and serves no real purpose other than it's what Danny Pang is used to doing. This is a bad film that shouldn't have been so bad.
Jesse Ortega
Super Reviewer
½
Starts out a bit slow, but picks up towards the end, giving some typical Pang Brother thrills. One twist at the end, isn't really a twist, but you won't necessarily see the very end coming. The three leads have good chemistry.
Anthony Valletta
Super Reviewer
In Love with the Dead Quotes
There are no approved quotes yet for this movie.