En la Ciudad de Sylvia (In the City of Sylvia)
(2007)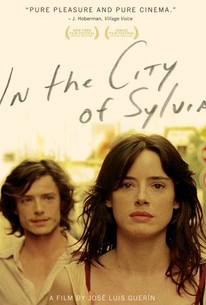 En la Ciudad de Sylvia (In the City of Sylvia) Videos
Movie Info
A youthful foreigner sits sketching the diners of an outdoor café in hopes of finding the women he met there years before in director José Luis Guerín's languid, sun-soaked tale of longing. It was a long time ago that the artist met a mysterious beauty named Sylvia, and the memory of the girl has lingered in his mind ever since. Perhaps if he can capture the movements of the patrons in this quaint European café he can recognize the woman he seeks. Then, at once, the artist believes he has found Sylvia. Setting out into the streets in pursuit of a fading memory, he vows that this time he won't let love slip through his fingers.
Rating:
PG-13
Genre:
,
Directed By:
Written By:
In Theaters:
On DVD:
Runtime:
Studio:
Axiom Films
Critic Reviews for En la Ciudad de Sylvia (In the City of Sylvia)
Audience Reviews for En la Ciudad de Sylvia (In the City of Sylvia)
See it. And I mean really SEE it. But don't see what you want to see. So sophisticated, yet utterly unpretentious. It could be the ultimate film about people-watching, but Guerin elevates the simple concept to a sophisticated piece of cinematic art.
Phillip Johnston
½
A sensual, minimalist film about voyeurism. The film makes great use of depth of focus and reflective surfaces and also benefits from an excellent sound design. Guerín's film depicts the tranquil city atmosphere of Strasbourg, where an unnamed man (the romantic dreamer type) sits at an outdoor cafe and watches the beautiful women setting there and sketches their gestures in his notebook, trying to construct a person scribed as "Sylvie". He stalks one of the woman whom he believes is this Sylvie. For such a simple setup this film was really engrossing and in the end it captured the essence of the main character's longing and romantic fantasy (ala Vertigo). Comparing it to Vertigo may be misleading since this is not a mystery nor does it have much of a plot. It's mostly just shots of the man watching and sketching.
X. T. C.
½
Simply beautiful. Beautiful place, beautiful people, beautiful cinematography, beautiful everything. You'll utterly fall in love with Strasbourg of France after watching this.
WS Wu
En la Ciudad de Sylvia (In the City of Sylvia) Quotes