In the Year of the Pig
(1968)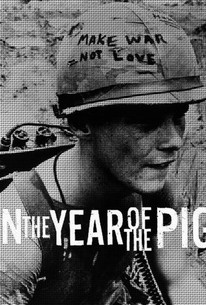 AUDIENCE SCORE
Critic Consensus: No consensus yet.
Movie Info
This documentary offers the entire story of the Vietnamese struggle for independence.
Rating:
NR
Genre:
, ,
Directed By:
In Theaters:
On DVD:
Runtime:
Studio:
Pathé Films
Critic Reviews for In the Year of the Pig
There are no critic reviews yet for In the Year of the Pig. Keep checking Rotten Tomatoes for updates!
Audience Reviews for In the Year of the Pig
Emile De Antonio's antiwar masterpiece, IN THE YEAR OF THE PIG, is a rough, gritty documentary. The film itself looks coarse and grainy, perhaps reused stock. But the images are iconic, and haunting. An American lifeguard at a South Vietnamese beach, looking absurdly out of place, rubs sunscreen on his nose. And the title sequence- a loud, disorienting jumble of images and sound. An unforgettable documentary that transcends its genre, but never quite achieves perfection, PIG is worth a watch.
Jake Gittes
[font=Century Gothic]For those that are knowledgeable about the Vietnam War, there will be nothing new to be found in the documentary "In the Year of the Pig." When it was made in 1968, it may have felt like a radical breath of fresh air, linking the Cold War and anti-Communist rhetoric to the tragedy of Vietnam. Speaking of which, President Kennedy, himself a fervent anti-Communist, surprisingly gets a free pass when discussing whether or not he would have escalated American involvement in Vietnam if he had lived. I do think it was a definite possibility considering his aggressive handling of the Cuban Missile Crisis and employing the same brain surgeons who also advised President Johnson.[/font] [font=Century Gothic][/font] [font=Century Gothic]Using archival footage and interviews with experts and politicians, "In the Year of the Pig" makes a detailed case for the hypocrisy of American politicians preaching democracy while not allowing self-determination when it came to Vietnam choosing its form of government, first in preventing the scheduled 1956 elections to unite the country and then supporting the repressive regimes of South Vietnam where the population was moved into strategic hamlets against their will and forced to vote in meaningless elections. Meanwhile in North Vietnam, the populace is armed in collective defense of which women were a very large and important part of.[/font]
½
And It Only Got Worse From There For some reason, Rotten Tomatoes shows two versions of this movie, one of which is only some twenty-five minutes. I didn't think there was a twenty-five minute version of this, but it's clearly intended to be this movie--it has this movie's poster. I am, therefore, going to assume that it's screwed up in the way certain of the things in the review system are still screwed up even all this time after the "improvements" were put in place. I've come across similar problems several times, which leads to the fun, fun game of "now, where do I put this review?" IMDB, for example, goes directly to the page for this one if you enter its title into their search criteria. So if this review is in the wrong place, I'm sorry; blame the vagaries of the website. At any rate. Filmmaker Emile de Antonio starts with the French occupation of Vietnam. He uses no narration, only primary sources. The imagery is complex and varied, though shown almost entirely from the US perspective. Even when people are speaking in favour of the North Vietnamese government, they are all Americans. This seems rather to make even the people speaking for the Vietnamese paternalistic, and the people speaking out about the Evil Communist, Ho Chi Minh, are obviously so. The phrase "the Free World" comes up with depressing regularity; there is, naturally, ranting Tailgunner Joe McCarthy. There are all sorts of the more determined Republicans interspersed with the Vietnamese dead, wounded, and captured, including a woman with distraught eyes and a group of Americans destroying rice rather than let it fall into enemy hands. Now, it's good that de Antonio admits to his bias, because it's pretty obvious. (I note he's also done a movie about JFK and that ignorant idiot, Mark Lane.) However, I suspect he doesn't notice his bias toward American source material. There's an interview on the DVD wherein he says that the Vietnamese don't speak English, but obviously, some of them do and did. You get Americans saying how the Vietnamese tell them this or that, but no one seems to talk to actual Vietnamese people. I'm not saying the average Vietnamese person spoke English; at the time, the more popular second language was French, given how long the French were the invaders. However, there were certainly plenty of English-speaking Vietnamese, and there's probably stock footage of them. There is this belief, in the US, that not wanting to be in a war means hating the people fighting in it. For some people, of course, the Military is a symbol of The Man and all that is evil with the world; we don't actually have to be at war for that to be true. However, I think most members of peace movements in any war are actually supportive of the actual people. There's the recurring theme of "support our troops; bring them home." How much body armour they had or needed wouldn't be an issue if they weren't somewhere getting shot at all the time. (Though studies indicate that hardly any soldiers actually fire their guns, not if they can avoid it.) However, I think that ties into an American need for all issues to be black and white. The reason a lot of Democrats are considered weak is that they're able to see more than one side of an issue. Also to change their minds upon further information, which we look down on as well. The film cuts off in 1968. I am curious as to how de Antonio might have dealt with later developments. There is footage of a North Vietnamese prisoner being beaten, but I think John McCain would testify, has testified, that the North Vietnamese were not exactly nice to their own prisoners. (Indeed, John McCain was actually a POW when the film was made.) And, after driving the Americans out, the Vietnamese turned on their own, with purges not uncommon in Communist countries. There was Nixon's "secret plan" to get us out of Vietnam, so secret that he didn't tell his advisors. He shows the collapse of Dien Bien Phu; he does not mention that hardly any of the French soldiers survived to return to France. Slowly but surely, the American people turned against the war, and he doesn't really touch much on the anti-war movement anyway. It wouldn't mesh with his point, I suspect.
Edith Nelson
In the Year of the Pig Quotes
There are no approved quotes yet for this movie.