In Another Country
(2013)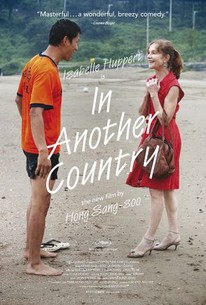 In Another Country Photos
Movie Info
Legendary French actress Isabelle Huppert (The Piano Teacher, 8 Women, La cérémonie, and the current Amour) stars in the first English-language film from South Korean master Hong Sang-soo (Hahaha, The Day He Arrives, Virgin Stripped Bare by Her Bachelors, Woman on the Beach). The Village Voice calls the film "the love child Antonioni and Hou Hsiao-hsien never had." In a triptych of overlapping stories, three different French women (a filmmaker, an adulterer and a divorce - Huppert, Huppert and... Huppert) visit a small Korean resort town and encounter a flirtatious director, a lovestruck lifeguard and far too much soju. Hong's latest tale(s) of love, lust and misunderstanding, IN ANOTHER COUNTRY is an effortless, laugh-out-loud comedy that plays like a lost French New Wave classic. Official Selection: Cannes International Film Festival (c) Kino
News & Interviews for In Another Country
Critic Reviews for In Another Country
Audience Reviews for In Another Country
Who would have ever imagined that the collaboration between Sang-soo Hong and Isabelle Huppert would result in such a delightfully light but insightful film. While there is much said here, this movie is intended to entertain as much as to make you think. Surrealistic and fanciful, In Another Country is both comical and melancholy. Huppert gives a wonderfully realistic and charming performance. The same for the rest of the cast. This is a long way from WOMAN IS THE FUTURE OF MAN, but it is hard to imagine any fan of Korean or French cinema not loving this movie. Spot-On!
Matty Stanfield
sang-soo hong is one of the best filmmakers working today. so good at what he does (blurring the line between life, art, illusion, reality) that it's easy to become intoxicated by his scenes and characters. it also makes me want to drink a shit ton of soju. and visit korea.
Seth Lachs
In order to get her mind off her uncle ruining her family and forcing them all to live in the street in an undesirable neighborhood, Won-ju(Jung Yoo-mi) distracts herself by writing a three part screenplay, all centered around a different Anne(all played by Isabelle Huppert) visiting a seaside village in Korea in the offseason. Blue Anne is a film director. Red Anne is in town to have an affair with Jong-soo(Kwon hae-hyo), a film director. Park Sook(Yoon Yeo-jeong) takes her friend Green Anne to the village to heal after her husband leaves her for another woman. On a meta level, "In Another Country" is an intriguing proposition with Won-ju writing herself into her own screenplay, possibly being inspired by this reality's Isabelle Huppert which is why she keeps showing up. However, in detailing each of the Anne's different effects on the people she encounters, especially a wacky lifeguard(Yoo Jun-sang), the movie feels slight, suffering from a terminal lack of ambition, coupled with a certain lack of filmmaking style.
In Another Country Quotes
There are no approved quotes yet for this movie.
Discussion Forum
Discuss In Another Country on our Movie forum!