Kabhi Khushi Kabhie Gham
(2001)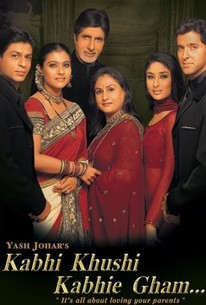 Kabhi Khushi Kabhie Gham Photos
Movie Info
Yashvardhan Raichand lives a very wealthy lifestyle along with his wife, Nandini, and two sons, Rahul and Rohan. While Rahul has been adopted, Yashvardhan and Nandini treat him as their own. When their sons mature, they start to look for suitable brides for Rahul, and decide to get him married to a young woman named Naina. When Rahul is told about this, he tells them that he loves another woman by the name of Anjali Sharma. Yashvardhan decides to meet with the Sharma family, and finds out that they are middle-classed, unsophisticated, and will not be able to it into his family circle, as a result he refuses to permit Rahul to marry Anjali. A defiant Rahul decides to leave, gets married to Anjali, without his foster parents blessings, and re-locates to London, England, where Anjali's unmarried sister, Pooja, also lives. Rohan, who was studying in a hostel, returns home to find that Rahul is no longer living with them, and he also discovers that while outwardly his dad is not interested in seeing Rahul get back, Nandini wants the family back all together for all happy and sad moments. Rohan also misses Rahul a lot, and decides to travel to London in order to try and get Rahul to return home. Yashvardhan, is unable to prevent this, and as a result Rohan does travel to London, meets with Rahul, Anjali, and Pooja. The question remains will the hurt and sorrow that Rahul experienced with his foster parents be erased and enable the family to be reunited, or will Rahul forget about the past, and continue to live his life without getting back to his roots and the family who brought him up, leaving Rohan to return alone?
Critic Reviews for Kabhi Khushi Kabhie Gham
Audience Reviews for Kabhi Khushi Kabhie Gham
A brilliant story that potentially features the greatest collection of Bollywood superstars in a single feature film. Everybody puts on a steller performance from Shahrukh Khan to Kareena Kapoor to Amitabh Bachchan. The plot may seem classicly unoriginal, but it rapidly becomes its own idea as you approach the half-way mark. The soundtrack is one of the more memorable of the decade and has a solid variety to appeal to young and more mature audiences. The film is decently friendly for a non-Indian to watch because of the setting and Western-appeal thrown in. The film is one of the few of its kind that can be watched over and over again as well as its family-friendly attitude. KKKG is extremely saddening a lot of the time, but has a large number of comedic, happy moments to keep it from being a sobfest. If you have 3.5 hours to spare, there is no better way to spend that time than a viewing of KKKG.
Suneel Joshi
Super Reviewer
Absolutely captivating! Great movie by Karan Johar. Intriguing story plot that follows a small family that abides traditions and cultures, but it is to a degree when the bonds of family is tested in terms of values and matters of the heart. Rahul is a dutiful son of Yash and Nandini Raichand. His family has always been the center of his world. Yash had always envisioned the young Naina as Rahul's bride and life partner. Rahul sees her only as a sister, but Naina has always been in love with him. Rahul has always been Nandini's favorite, and she only wants absolute happiness for him regardless of whom the young bride may be. One day, Rahul meets the carefree Anjali, and immediately falls in love with her. He asks for his father's permission to pursue her but Yash refuses because of Anjali's social status. He respects and abides his father's wishes but when Anjali loses her father, he then immediately marries her. To the dismay of his father, he has broken his promise and is disowned. Several years passes, young Rohan must now find his older brother and bring his family back together. With the help of a childhood friend, Pooja (Anjali's younger sister), he wishes to fulfill his grandmother's last wish: to bring back the joy and happiness to the family. Amazing cast- Kajol, Shahrukh Khan, Hrithik Roshan, Amitabh Bachchan, Jaya Bachchan, Farida Jalal, Alok Nath, and Rani Mukherjee. Worth seeing!
Kabhi Khushi Kabhie Gham Quotes
There are no approved quotes yet for this movie.