In Like Flint
(1967)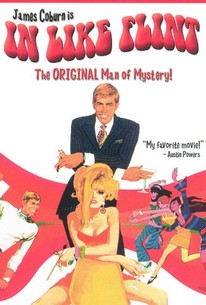 Movie Info
In the sequel to Our Man Flint, secret agent James Coburn wages war on a female secret society that is plotting world domination.
Rating:
G
Genre:
, , ,
Directed By:
Written By:
In Theaters:
On DVD:
Runtime:
Studio:
Twentieth Century Fox Home Entertainment
Critic Reviews for In Like Flint
Audience Reviews for In Like Flint
Awesome, super spy and Man of Mystery joins forces with an army of super-hot, '60s, bikini-clad women (who plan to take over the world with a brain-washing hairdrier) to foil a diabolical plot to take over/destroy the world. Yeah ... who wouldn't like this movie? The movie was almost as good as the Austin Powers spoofs of the Super Spy.
Eugene Stewart
½
Not funny, not even worthy of the term spoof. This is just horrid plot, horrid script, horrid waste of Coburn and Lee J. Cobb. These guys simply whored themselves making this abortion. [img]http://t1.gstatic.com/images?q=tbn:ANd9GcTllrGRA-XZOqSSHGaTQw1cREKzoUR1OO9e4ViyQvvf5HoZNqAG[/img] SEE the trailer (and cringe): http://www.youtube.com/watch?v=yZtFYLqs9nY Ordinarily, all my guests at Cafe Americain know I do not review rottens. But in this case, I will make an exception. Don't waste any of your time on this more than embarressing, pityful film. It isn't even worth seeing for the costumes. [img]http://t3.gstatic.com/images?q=tbn:ANd9GcRY3xdTBdUB9FY5_AU7w5Gu-NyorsvscvNAuxUYnSSb2-BKsLKV[/img] IF ever there was a get rich film made to mock and simply ride the coat tails of a good idea, In Like Flint is that horribly crap attempt to do so. Pure exploitation of the James Bond concept if there ever was one. Of course, many other soiled attempts at spoof or otherwise were made off the fame and immense popularity of the Bond series. [img]http://t1.gstatic.com/images?q=tbn:ANd9GcQIXaLYNSoazXA9tcgKIsVvApJSmR_qHDHlyyWfPMFG11hMC7sP[/img] In summation, In Like Flint is a waste of electricity. A male chauvinist fantasy flick that is so over-the-top it is embarressing to watch even knowing full well it is being a Bond spoofer. [img]http://t2.gstatic.com/images?q=tbn:ANd9GcSqx1sjLFyzI_eaqBUZuF1pU2BeViRdRphAWs0t4W3AidfT_SFOIsoUwybi[/img] NOTES: 1 In Like Flint is a 1967 film directed by Gordon Douglas, the sequel to the parody spy film Our Man Flint (1966). It posits an international feminist conspiracy to depose the ruling American patriarchy with a feminist matriarchy. 2 In Like Flint was the last film made in CinemaScope. The title is a play on the phrase "in like Flynn". [img]http://t0.gstatic.com/images?q=tbn:ANd9GcRjuUetxKy5GwIa0ZnEFjTpFvxDhDyNw4rQn1RO3A0B0qg_6BRmaQ[/img] 3 In the movie Austin Powers: The Spy Who Shagged Me, the main character Austin Powers (while being on honeymoon with his new wife Vanessa Kensington) switches on the TV to a scene from In Like Flint. He mentions to Vanessa that it is his favorite movie. [img]http://upload.wikimedia.org/wikipedia/en/thumb/0/00/Original_movie_poster_for_the_film_In_Like_Flint.jpg/220px-Original_movie_poster_for_the_film_In_Like_Flint.jpg[/img] REVIEWS: 1 In Like Flint received mixed reviews when released in 1967; a New York Times critic said: "Although the film crawls with dime-store beauties, there is a noticeable lack of sexiness in it." 2 Roger Ebert had similar criticisms: "The sexiest thing in the new Derek Flint misadventure, In Like Flint, is Flint's cigarette lighter, which is supposed to know eighty-two tricks, but actually delivers only five, of which, one is the not extraordinary ability to clip Lee J. Cobb's moustache". [img]http://t0.gstatic.com/images?q=tbn:ANd9GcQuZJnbiijBYotJXp3z_at9ZQOA76GXg4Wo0KZyPnQUJOXyHLIV[/img] CAST James Coburn as Derek Flint [img]http://t0.gstatic.com/images?q=tbn:ANd9GcQR-FFrAY0sy09jdl9rSCHpcBORC9hkb7VQ4-CLHBvw4ColGIQ[/img] Lee J. Cobb as Lloyd Cramden Jean Hale as Lisa Andrew Duggan as U.S. President Trent Anna Lee as Elisabeth Hanna Landy as Helena Totty Ames as Simone Steve Ihnat as General Carter Thomas Hasson as Lieutenant Avery Herb Edelman as Russian Premier Yvonne Craig as Natasha Jennifer Gan as Amazon [img]http://t3.gstatic.com/images?q=tbn:ANd9GcRxvnxvULSoMrT9FR-A6jJW5R_QTeaKpbTmbIfKoWEOcU_iWI3yuA[/img] Directed by Gordon Douglas Produced by Saul David Written by Hal Fimberg Music by Jerry Goldsmith Cinematography William H. Daniels, ASC Distributed by Twentieth Century Fox Film Corporation Release date(s) March 15, 1967 (U.S. release) Running time 99 minutes [img]http://t1.gstatic.com/images?q=tbn:ANd9GcR_OIRouykeCwGUFpUs6fL9gQHZ8rCxQU_tm397LQmChofjKmssTA[/img]
monsieur rick
½
This is the second of James Coburn's Flint movies. It's the better of the two. It's also the best spoof of 007. There are more good looking women. The plot is making fun of the women's lib movement that was brand new in 1967. There is a reference to the Batman TV show and a prediction of an actor becoming President of the United States. Ronald Reagan had just been elected Governor of California when this movie was made. I first saw this movie on TV. It's a fun movie with a 1960's vibe to it. Coburn also tries to do a lot of Kung Fu moves. He was being trained by Bruce Lee.
Donald White
In Like Flint Quotes
There are no approved quotes yet for this movie.
Discussion Forum
Discuss In Like Flint on our Movie forum!