In Praise Of Love (Éloge de l'amour)
(2002)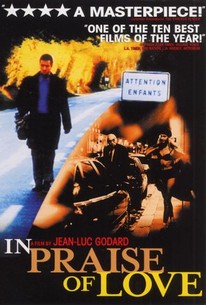 Movie Info
Cinematic iconoclast Jean-Luc Godard returns to the front ranks of contemporary filmmaking while embracing the digital video revolution (no great surprise, given his eager and early embrace of video technology in the 1970s) with this drama. In the first part of the film, shot on 35 mm black-and-white film, a filmmaker named Edgar (Bruno Putzulu) is in the midst of a casting session with his producers, looking for the leading lady for his next film. More interested in discussing philosophy than in the nuts and bolts of the character, Edgar speaks with a number of actresses before he encounters Elle (Cecile Camp); he's fascinated by her, and is certain he's met her somewhere before, but can't tell where or when. Eventually, Edgar decides Elle is the right person for the role, but he then discovers she has died. In the second part of the film, produced using color digital video equipment, Edgar flashes back to the moment when he first met Elle -- he's meeting with an elderly couple who survived the Holocaust and have sold their life story to a Hollywood movie producer. While meeting the couple as a guest of an old friend and historian (Jean Lacouture) interested in their story, he's introduced to the couple's granddaughter, a law student who has offered to take a look at their contract -- Elle.
Critic Reviews for In Praise Of Love (Éloge de l'amour)
Audience Reviews for In Praise Of Love (Éloge de l'amour)
I am just waiting for the cinephiles to jump all over me. A measly three stars for the return of the great Godard. The truth is that I wasn't terribly moved..and perhaps I wasn't meant to be. It's over my head.
John Ballantine
Super Reviewer
½
The usage of challenging montage and hews aren't an important advantage of this Godard flick.Le dialogue probablement to semi-quote another movie.Naturally,incorporating novels/poetry in the midst of affection and ashes of past loves brings new reactions from both critics and investigating audiences.Condemning the U.S. on past events isn't our problem as well.It's repetition.Godard's films are so clever,it's impossible to rate them fewer than this (unless they're heavily experimental?),I just felt he was cockier than before.
Dimitris Springer
Super Reviewer
In Praise Of Love (Éloge de l'amour) Quotes
There are no approved quotes yet for this movie.