In Search of Lovecraft
(2008)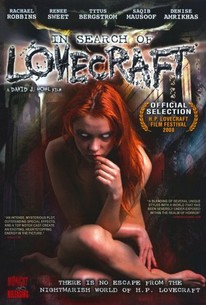 AUDIENCE SCORE
Critic Consensus: No consensus yet.
In Search of Lovecraft Photos
Movie Info
A television news reporter flirts with insanity upon learning that the otherworldly horrors of H.P. Lovecraft are more real than anyone could have ever imagined. Rebecca Marsh (Renee Sweet) is a TV journalist with a reputation for always getting the facts. When Rebecca decides to tell the story of famed weird fiction author H.P. Lovecraft, however, the terrifying truth about our fragile reality plunges her into a nightmarish world of bizarre creatures and murderous cults. Meanwhile, Rebecca's fearless cameraman calls on his occult knowledge to uncover the truth about Lovecraft, and an enchanting young witch (Rachael Robbins) fights to fend off the encroaching darkness.
Critic Reviews for In Search of Lovecraft
There are no critic reviews yet for In Search of Lovecraft. Keep checking Rotten Tomatoes for updates!
Audience Reviews for In Search of Lovecraft
Seriously, when you think Low Budget Horror, you think of Blair Witch, but this movie is as low budget as you can get. I really don't think they had a script for this one, I think it was totally improvised, and the conversations are awkward and forced. The poster does not tell you how badly shot this film is, it gives you hope but this movie is just one of those movies that is just hard to watch.
Naomi Randolph
a painfully, painfully crappy film. Being a Lovecraft nerd I will admit, I was enticed and wanted to follow the film to its conclusion. I had to sit through 90 minutes of terrible characters, bad acting, forced dialog, bad direction and film that was WAY too indecisive in identity itself as a found footage film or a normal film. Somewhere the creators to decide: 'eh fuck it' and create a bastardized hybrid. I know its a b-movie based on Lovecraft, but I have seen Lovecraftian B-movies handled more professionally and directed with more care and forethought. It felt to me that the writer of this film was reading on a little Lovecraft just to have enough material to tie in the story with the title; "Searching for Lovecraft" merely to bank on the name; 'Lovecraft.' hell, i was dumb enough to waste my time over that. the only reason I am not going lower with this rating is that the ending, though tacked on, was an actually a legit scary moment (though it was the only one) and the witch was hot.
Dan Zangerl
A news reporter is stuck doing a lame story on Halloween as filler for her tv station asking random people on the street if they know who HP Lovecraft is that is until she interviews this professor who hints that maybe the stuff in Lovecraft's stories aren't all the work of fiction and some believe that the things he wrote about truly have happened so of course like any good reporter her and her cameraman decide to investigate which leads them into some very dangerous situations. This movie would have been so much better had they got some money together and got decent actors to play these parts i gave it 2 stars for story but overall the movie is a low budget mess and only should be watched if u wanna see what could have been
In Search of Lovecraft Quotes
There are no approved quotes yet for this movie.
Discussion Forum
Discuss In Search of Lovecraft on our Movie forum!