In the Bleak Midwinter (A Midwinter's Tale)
(1996)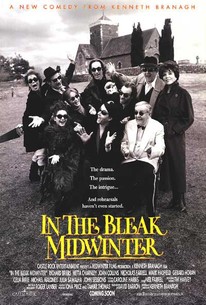 In the Bleak Midwinter (A Midwinter's Tale) Photos
Movie Info
When his professional career hits a lull, an actor attempts to revitalize his career by staging a production of Hamlet, directed by and starring himself. Director and star Kenneth Branagh would in fact release his own film version of Shakespeare's classic play a year later, but this comedy provides his fictional counterpart with far less in terms of production value. Lacking money and time, he recruits a rather motley group of drunks, incompetents, and oddballs, including a middle-aged female impersonator in the crucial role of Queen Gertrude. Given only three weeks of rehearsal, and an abandoned church in a remote town in the English countryside, this unlikely group nevertheless struggles valiantly to make theatrical magic. The film attempts to pay loving tribute to the madness that surrounds the staging of a play, with all of the backstage dramas, inevitable disasters, and unexpected triumphs, but the end result is often less amusing than it ought to be. The film was released in the United States under the title A Midwinter's Tale. ~ Judd Blaise, Rovi
Rating:
R
Genre:
Directed By:
Written By:
In Theaters:
On DVD:
Runtime:
Critic Reviews for In the Bleak Midwinter (A Midwinter's Tale)
All Critics (26) | Top Critics (8) | Fresh (21) | Rotten (5)
This small-scale, putatively comic meditation on the anxieties and joys of the theatrical life says nothing fresh about the artistic process and manages to be coy and grating in doing so.

A Midwinter's Tale" packs together so many characters and ideas that they crowd one another out, leaving enough room for plenty of chuckles but none for belly laughs.

New York Times
Top Critic
Looked at coldly, as a piece of entertainment, it clearly doesn't satisfy. But as a personal statement from writer-director Kenneth Branagh, the film still isn't good . . . but it's interesting.

San Francisco Chronicle
Top Critic
There are so many laughs here, so much theatrical temperament on display, that you can't help but embrace the picture, even with its obvious flaws.
Washington Post
Top Critic
Audience Reviews for In the Bleak Midwinter (A Midwinter's Tale)
½
A brilliant comedic look into the lives of a rag tag group of actors stumbling upon the shakespearian stage. Featuring the directing talent of Kenneth Branagh, quick one liners, and possibly the most awkward audition scene in cinema (besides Waiting For Guffman of course).
Sean Michael Smith
½
Unusual comedy of pathetic English characters producing a bizarre terribly arty version of Hamlet. Quite amusing!
Frances Ann Ade
Kenny Branagh's film is flawed, the timing and pitch are off, but it's on my favorites list. I attribute this mostly to its purpose as a trip down memory lane for a particularly tragi-comedy turning point in my life. I was a few years done with having lived this film, and my old-school best friend Michael Maloney stars in this. He also informed me that there a couple of moments and a few smatterings of character traits which were based on me but refuses to divulge which ones. The bitch. Definitely for those of us who dedicated years to Shakespeare and the boards.
River Eirtree
In the Bleak Midwinter (A Midwinter's Tale) Quotes
There are no approved quotes yet for this movie.
Discussion Forum
Discuss In the Bleak Midwinter (A Midwinter's Tale) on our Movie forum!