In the Company of Men
(1997)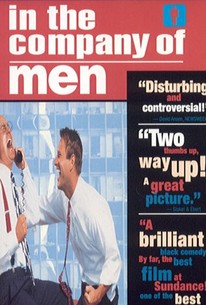 TOMATOMETER
AUDIENCE SCORE
Critic Consensus: Neil LaBute's pitch-black comedy is a masterful exploration of male insecurity, and it's elevated by a breakout performance by Aaron Eckhart as a businessman who likes to play psychological games.
In the Company of Men Photos
Movie Info
Two frustrated young executives vent their pent-up rage via a childish prank and end up paying a price in this psychological black comedy, the feature-film debut of writer-director Neil LaBute. Former college buddies Chad (Aaron Eckhart) and Howard (Matt Malloy) are in their early 30s and work in the same company. One day the two encounter each other in the men's executive washroom and begin expressing their mutual frustration regarding their lack of rapid advancement at work and their most recent bad luck with women. In hopes of gaining revenge against the fairer sex and bolstering their battered egos, the two hatch a nasty scheme to be enacted over an upcoming six-week-long business trip: Find a vulnerable young woman to court, slather with affection, and then callously dump. They choose a lovely, hearing-impaired typist named Christine (Stacey Edwards), a woman who hasn't dated in many years. Not realizing that she is about to be the metaphorical mouse between a pair of hungry cats, she laps up the sudden attention, but in no time it becomes apparent that Chad is the man she prefers. When Howard discovers this, it creates escalating tension between the two men who begin playing more psychological games, not only with hapless Christine, but also with each other.
News & Interviews for In the Company of Men
Critic Reviews for In the Company of Men
Audience Reviews for In the Company of Men
It wrings some good tension out of its bonkers plot, but by the end "In the Company of Men" feels like it's all concept, middling craftsmanship, and no valuable message.
Sam Barnett
Super Reviewer
I thought I would like this LaBute film since I usually dig his hold-a-mirror-up-to-society commentaries, but the evil machinations in this movie really have no exigence other than, as Chad states at the very end, "Because I could." This isn't some evil sociopathic genius who reveals societal hypocrises (like Evelyn does in The Shape of Things); hypocrises are nevertheless revealed but not through any action or intention on Chad's part. In the Company of Men is just two college dudes, thinking of how cool it'd be to write a totally depraved script and wait until one dude is sufficiently rich and famous enough as a playwright to produce this piece so that the other dude can star in it. The puns on "company" and the hierarchy of power are intriguing, but the company itself is such an underdeveloped entity. What is it? What do they do? Why are they here? It seems like LaBute didn't even know. It's too easy to say the anonymous nature of the company could represent any company. The LaBute I know is much too specific of a writer to cut corners like that, unless of course, he was too inexperienced to think it needed development.
Alice Shen
Super Reviewer
Neil LaBute's "In the Company of Men" is vicious look at misogyny. Aaron Eckhart totally nails his role here and it's a marvel to watch. The picture is cruel (though no where near as damaging as "Your Friends & Neighbors") and scathing. LaBute's dialogue is also a treasure to behold. Something special always seems to happen when playwrights transition to film and "In the Company of Men" is one of those gems. It's a nasty piece of work, but well worth your time for it's biting deconstruction of masculinity, sexual politics and angst. If you are looking for an extremely violent film without any violence it in, you need to see "In the Company of Men."
Steven Carrier
Super Reviewer
In the Company of Men Quotes
There are no approved quotes yet for this movie.