P.O.V.
(2008)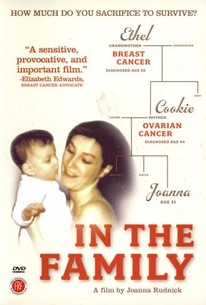 AUDIENCE SCORE
Critic Consensus: No consensus yet.
Movie Info
Director Joanna Rudnick serves as filmmaker, journalist, and active participant in this documentary highlighting how the mapping of the human genome can be simultaneously a remarkable gift and a horrible curse. Rudnick was just in her twenties when she tested positive for a genetic mutation that virtually ensures she will develop breast and ovarian cancer. Though, at age twenty-seven, Rudnick can circumvent the consequences by opting for surgery that will leave her devoid of both breasts and ovaries, chances are good that she will pass the mutation on to her children should she choose to become a mother. Now, Rudnick will embark on a cross country quest to speak with other women who have taken the test and received troubling results, speak with the researcher who discovered the existence of the mutation, and speak her peace to the president of the company that holds the patent to the prohibitively expensive test.
Critic Reviews for P.O.V.
Audience Reviews for P.O.V.
½
Before committing to any serious relationship, there is probably certain information that should be disclosed that, if not, could have adverse affects down the line. Normally, this could involve addictions, STD's or voting records. For filmmaker Joanna Rudnick in her informative and personal documentary "In the Family," it comes down to the fact her family has a lengthy history of ovarian and breast cancer, leading her to test for the BRCA-1 gene to which she is positive, giving her a 80-90 percent chance of developing ovarian cancer and a 50-60 percent chance for breast cancer in her lifetime. While not exactly a death sentence, it is a Sword of Damocles hanging over her head, as the treatment options even in this age of scientific breakthroughs are limited to removal of the organs which is tricky considering she wants to start a family. If she does go through with it, there is the option of breast reconstruction, which to paraphrase "Drop Dead Diva," will not have you thinking of cancer. In the meantime, all she can do is constantly monitor her health. Well, that's not exactly true, as she also puts her scientific journalism skills to good use to talk to others around the country undergoing the same choices she faces, along with survivors. She also talks to scientists in an attempt to get some answers about the high price tag of the test.(About $3,000 when the film was made.)
P.O.V. Quotes
There are no approved quotes yet for this movie.
Discussion Forum
Discuss P.O.V. on our Movie forum!