In the Line of Duty
(1986)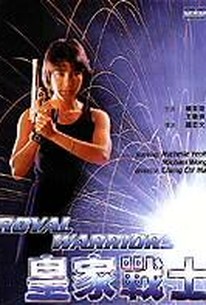 AUDIENCE SCORE
Critic Consensus: No consensus yet.
Critic Reviews for In the Line of Duty
All Critics (0) | Fresh (0) | Rotten (0) | DVD (1)
Audience Reviews for In the Line of Duty
½
Most people may remember Michelle Yeoh as the Bond girl in 'Tomorrow Never Dies', but true fans know she started her career in movies many years before that. For me she is the undisputed queen of martial arts and kung-fu cinema. Movies like this one only prove my theory further. If I was to give this movie my personal rating I would probably give it a perfect score but I try to be fair and understand some people might not be into these types of films as I am. There are certain things in this movie that I know the average moviegoer might not get or like that much, so I'm going to try to explain them as best I can. The plot is basically about three police officers from different units, Michelle Yip (Michelle Yeoh) from Hong Kong police, Michael Wong (as himself apparently) as an air security quard and Peter Yamamoto (Hiroyuki Sanada) as a Tokyo interpol agent. They end up joining forces to stop a hijacking on a plane that was taking a mob prisoner back to Hong Kong. The three officers end up killing the prisoner and the hijacker who came to rescue him, making the three cops heroes. However what they didn't know is that the prisoner and hijacker have two brothers who want revenge for the death of their brothers and will stop at nothing to get it. All the characters have very unique personalities. Yeoh is a very tough cop who doesn't take any crap from guys, Wong is kind of goofy and jokes around a lot (sometimes too much) and trys way too hard the entire movie to get into Yeoh's pants. Sanada is kind of a depressing character, I can't remember too many scenes where he had a smile on his face. Then again it's understandable why since the bad guys decided to take revenge on him first by doing something that really takes you by suprise when you see it. I don't want to give away too much but it's pretty shocking and sad. The action scenes in this movie are pretty good for a low budget Hong Kong film from '86. The fighting from Yeoh is awesome as always. Her ballerina background really shines through when she kicks, fully extending her leg effortlessly to knockout bad guys. There are some cheesy effects that dumbed down the action scenes and made them almost laughable at times, most notably the gun fire. Seriously they look and sound like those cheap little cap gun toys I got at the dollar store when I was a kid. It's really easy to notice too because there is one scene in a night club where a guy just stands there spraying with a small machine for like a minute and half, I couldn't help but laugh a little. This movie is really obscure so chances are if you're reading this you're a fan of Michelle Yeoh (like me), and it doesn't matter what I or anyone else say about it, you'll watch it and like it. However for most people who probably don't know about it, if you can get past the obvious low budget effects and the annoying Michael Wong, this underrated movie is definitely worth a watch. For fans of pure action this delivers but you'll probably have to order the DVD off eBay like I did because you definitely won't find this at your local video store.
William Ellinwood
[color=black]In the Line of Duty or "Royal Warriors" as titled on my dvd cover is an exciting hong kong action picture starring future bond girl Michelle Yeoh. The movie revolves around Michelle playing a cop which by mistake runs into a airline security gaurd while on a plane which just so happens to be taken over by terroists that want to free a terrorist leader which is one the plane. Now that that spill is out let's talk abit more about the performences, which I feel are on target. Michelle is as good as she is in any movie and the airline gaurd played by Micheal Wong is real fun to listen to. The action is pretty dated but this is still a good movie.[/color]
Trey Sesler
Discussion Forum
Discuss In the Line of Duty on our Movie forum!
News & Features