In the Realm of the Senses
(1976)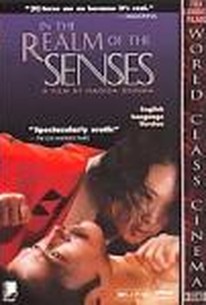 Movie Info
Based upon a true incident in 1930s Japan, Nagisa Oshima's controversial film effectively skirts the borderline between pornography and art -- making Bernardo Bertolucci's Last Tango in Paris of four years earlier look like children's programming in comparison. The story concerns servant and former prostitute Sada Abe (Eiko Matsuda) who becomes sexually obsessed with her employer Kizicho (Tatsuya Fuji), a businessman, after seeing him making love to his wife. After making love to Sada, Kizicho becomes obsessed with her as well. As their love-making becomes more and more intense, they find themselves unable to separate themselves from each other, until every waking hour is spent in more and more dangerous sexual acts with Sada becoming more and more of the aggressor. Finally, for the ultimate in eroticism, Kizicho agrees to be strangled during sexual ecstasy for the ultimate in orgasmic fulfillment. ~ Paul Brenner, Rovi
News & Interviews for In the Realm of the Senses
Critic Reviews for In the Realm of the Senses
Audience Reviews for In the Realm of the Senses
½
Famed for the controversy it caused upon its original release, Nagisa Oshima's 'In the Realm of the Senses' was, for a long time, only spoken about in hushed voices, confined to a world of perpetual slicing and dicing by the censors and never truly available in its graphic entirety. It's been thirty-four years and the film has at long last received an unedited pass by the BBFC, allowing audiences to finally be subjected to something like which they have never seen before, and for many, may never want to see again. The film is based on the true story of Sada Abe (played here by Eiko Matsuda), a Japanese woman who acquired fame for killing her lover, Kichizo Ishida (Tatsuya Fuji) via erotic asphyxiation before cutting off his penis and testicles to carry around in her handbag. Undoubtedly the most striking thing in ITROFTS is the graphic, increasingly obscene, real sex that the story centers around. Oshima has no boundaries when it comes to showing his actors entangled amongst one another, and this, for many will seem unnecessary and overly pornographic. For those able to view it objectively however, it will add another dimension of realism to both the narrative and performances that is scarcely found. Despite its graphic nature and unrelentingly brutal sexuality there is also a sense of profound beauty throughout the film, brought upon it by the perfectly composed shots and melancholic traditional Japanese music that plays in the background. A sense of limbo accompanies said beauty and causes viewers to feel as if they are, much like Sada and Kichizo themselves, lost in the realm of the senses, victims of both visions of beauty and pain, yet unable to tell the two apart. Although effective, this sense of limbo is also accountable for some of the film's issues with pacing and plot, which often feels as if it is lost amongst the overriding eroticism Oshima was clearly more focused on. Overall, In the Realm of the Senses is a love it or hate it film, which, even if you do love, is impossible to recommend without looking slightly odd.
Cameron Sherwell
Super Reviewer
Veronique Kwak
Super Reviewer
½
A beautiful, but very adult, film. The story is very powerful and kinda crazy, but I think it was actually based on a true story! An excellent movie about obsession.
In the Realm of the Senses Quotes
There are no approved quotes yet for this movie.