In Their Skin
(2012)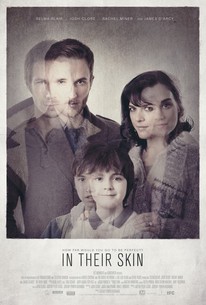 Movie Info
Following the tragic death of their young daughter, the Hughes family decide to escape to their upscale vacation home in the woods. But their attempt to get some quality time together is violently interrupted when a neighboring family with a hidden agenda drops by for dinner. First-time director Jeremy Regimbal builds tension to a calculated and ultimately brutal crescendo in this home-invasion thriller. Starring Selma Blair, Joshua Close, James D'Arcy, and Rachel Miner. -- (C) Tribeca
News & Interviews for In Their Skin
Critic Reviews for In Their Skin
Audience Reviews for In Their Skin
Home invasion thrillers really are a dime a dozen. There's so many of these films that come out that it's really hard to distinguish them. The only way you can really tell them apart is when they're really fucking good or, the other extreme, really fucking bad. When you get to the middle of the road movies, it's kinda hard to differentiate between them and it gets annoying sometimes. Perhaps that's not the right word to describe it, but it's to the point that I just wish someone would just change up the formula. There was one that did, Intruders, so that was appreciated, even if I didn't think that particular film ended up being good. At least it made an effort. Which brings us to this movie and its reception, particularly among the audience. If I'm being completely honest, I thought this was a perfectly solid little home invasion thriller. Is this a reinvention of the genre? No, not even fucking close, but it at least something offers that's somewhat believable within its own context. It's not a movie that goes too over the top with its 'hostage' situation, where Bob, Jane and Jared try to take over the lives of this family that they perceive to be perfect. They want to assume their identities and carry on living their lives as if they were this wealthy family. One of the things I liked about the movie was the fact that it went both ways. In many ways Jade, Bob's 'wife', had been indoctrinated by Bob into believing that she needed him around. And he has also molded Jared into a mini version of himself, where he just takes what he pleases and does what he wants. So, in many ways, Jane was as much a victim, maybe even more so since she has been in this situation for years, than the family whose life they wanted to steal. So I liked that aspect of the film, it gives it some more dynamism in that it doesn't just focus on the situation that Mark, Mary and Brendon are going through, it's also about the abuse Bob has put Jane and Jared, to a lesser extent, through. It's not a movie that's really all that violent, though it doesn't really need to be since I think it's got a relatively strong story. Perhaps strong isn't the right word, but it had a story I could get into and the actors all do a really good job at portraying their characters. Particularly Selma Blair and Rachel Miner, who really are kind of the focus of the film. James D'Arcy also does a good job as Bob. So no complaints on that front. The film, obviously, isn't a technical masterpiece and some elements of the film could have been tightened up, pacing isn't great. But, by and large, I still felt that this was a solid film. Which is why it surprises me that audiences weren't more receptive. Not that I'd expected them to think it was great, but I think it's a better movie than what the audience score, or critics review, would imply. Not saying their opinion is wrong, of course, as everyone is entitled to think what they want. But, for my money, this was a solid little house thriller that focuses more on character as opposed to the family being put in a terrifying situation. Though there's some of that as well, particularly with their young son facing danger. It's not perfect or anything of the sort, but I enjoyed my time with this movie. Can't say I'd recommend it, but I know I liked it. And, really, that's all that matters to me.
Jesse Ortega
Super Reviewer
MisterYoda ?
Super Reviewer
I like the creepy neighbours character but the movie didn't have enough energy, was just very lazy, predictible and bah....
Shawn Montague
Super Reviewer
In Their Skin Quotes
| | |
| --- | --- |
| Mark Hughes: | Who are you? |
| Bobby Sakowski: | What's important is who people think we are... |
| | |
| --- | --- |
| Bobby Sakowski: | The perfect family... |
Discussion Forum
Discuss In Their Skin on our Movie forum!