In Your Hands
(2005)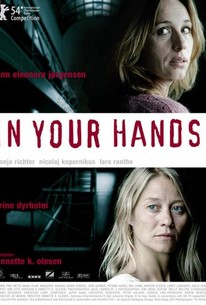 Movie Info
Anna (Ann Eleonora Jørgensen of Italian for Beginners) has just been hired as the chaplain at a women's prison. Inexperienced, but compassionate and energetic, she begins to feel her way amongst the prisoners. Soon, a new prisoner, Kate (Trine Dyrholm of The Celebration), is transferred to the prison and causes a stir. Marion (Sonja Richter of Open Hearts), a junkie, has heard that Kate helped another prisoner get clean and goes to her when her fellow prisoner and dealer, Jossi (Sarah Boberg), cuts her off. Marion kicks heroin, and believes that the introspective Kate has healed her. When Anna gets wind of this, she goes to see Kate, but Kate doesn't want to talk to her. She's even a bit hostile, telling Anna to look after herself and the baby in her belly. Anna believes herself infertile after fruitlessly trying to have a child with her loving husband, Frank (Lars Ranthe). She's shocked to discover that she is actually pregnant, but her joy turns to dismay when she learns that the fetus may have a serious birth defect. Meanwhile, Henrik (Nicolaj Kopernikus), a mild-mannered guard, finds himself increasingly drawn to Kate, to the point of putting his job in jeopardy, while the ruthless Jossi, losing business, feels threatened by the strange new inmate. Writer/director Annette K. Olesen and co-writer Kim Fupz Aakeson made In Your Hands in the Dogme style, shooting on video at Nyborg State Prison. The film was shown at the 2004 Berlin International Film Festival and selected by the Film Society of Lincoln Center for inclusion in New Directors/New Films.
Rating:
NR
Genre:
,
Directed By:
Written By:
In Theaters:
On DVD:
Runtime:
Studio:
Newmarket Films
Critic Reviews for In Your Hands
Audience Reviews for In Your Hands
Crystal clear themes of the miraculous and the mundane are lived and grappled with in Annette K. Olesen's dogme certified film from six years ago. I went looking for Forbrydelser, or In Your Hands, after seeing Trine Dyrholm in DeUsynlige, and remembering her from Festen years ago. The poster above calls it the best Danish film since Festen, and while that shows a lack of a knowledge of many great Danish films over that ten year period, I can somewhat sympathize with that understanding. I simply loved Forbrydelser. It stands out with Festen and The King is Alive and Italian for Beginners and Open Hearts as one of the better films in the dogme movement -- the kind of film Lars von Trier was looking for when he launched the movement years ago. And I make no bones about the fact that this is easily my favorite movement in film history. The story revolves around a fresh-out-of-theology school priestess Anna (wonderfully played by Ann Eleonora Jørgensen), who takes a chaplain position in a local women's prison. There she meets a cast of characters -- junkies, prostitutes, prodigal moms and murderers -- and shines with every ounce of God's compassion and endless love for them all. It isn't easy, though. When she meets cold, calloused prisoner Kate (Dyrholm, perfect as always), who while addicted to drugs brought about the death of her child, judgmentalism creeps in. With a simple glance Kate tells Anna she is pregnant. Anna and her man have been trying for years; doctors have told them it's just not going to happen. Against her man's feelings, Anna buys a pregnancy test which results in another trip to the doctor. Child murderer Kate let her in on a secret even her body hadn't shared with her yet: she's with child, and is surprised with joy even as she ponders how a child murderer could have known. She begins to resent the sin-stained prophetess Kate. Kate shows other signs of miraculous ability, too. There's something transcendent -- perhaps even healing -- in the simple touch of her hands. Though she doesn't even know how to pray, Kate has obviously had an encounter with something from beyond that's left others in hope of a blessing. While Anna's child grows inside her and we learn that something may be wrong in this pregnancy, Kate's friendships in the prison blossom, causing friction with those at odds with her blessing. Anna's doctor makes her aware that abortion may be the only right alternative, as Kate is pushed into holding back her blessed touch from the women. The two women and how they understand a higher power are somehow linked, and yet both of them avoid each other at first. In persuading Anna to seek out Kate's touch, one of the prisoners tells her: "You're in the same business." But now Anna struggles with a God who won't fully develop her child, and whether it's right to take the life that's now in her hands. The most interesting aspect for me was in the last few minutes. There is a subtle crescendo, a quiet climax, in which something happens -- a rather bad event -- in which every single character can take their own form of the blame. Guilt is heaped on everyone involved, a guilt Anna has relentlessly already preached against in her teachings: Responsibility is taken for your sin, and guilt should fall by the wayside. It's a great irony at this point, as a final guilt fixes itself on all involved with even more ferocity than the priestess-wrestling-with-abortion issue. Forbrydelser is the 34th certified dogme film, created for the celebration of dogme's tenth anniversary. Like all good dogmes, it compares class and envy, agnosticism against religiosity, restraint against emotional fervor, and mystery gets the final word. No background music, no special effects, no bells, no whistles, no frills. This is dogme, it's somewhat quiet but as fictitiously real as it gets.
Stef Loy
In Your Hands Quotes
There are no approved quotes yet for this movie.
Discussion Forum
Discuss In Your Hands on our Movie forum!