InAlienable
(2010)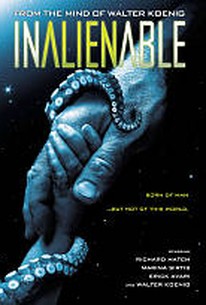 AUDIENCE SCORE
Critic Consensus: No consensus yet.
Movie Info
Richard Hatch of Battlestar Gallactica stars as Dr. Eric Norris, a brilliant researcher guilt-ridden over a family tragedy. But when an extraterrestrial parasite fuses with his DNA, Norris gives birth to a half-human, half-alien progeny.
Critic Reviews for InAlienable
All Critics (1) | Fresh (1) | Rotten (0) | DVD (2)
Alternately scary and kooky, Inalienable boasts a procession of sci-fi icons, and gets into cosmic mode when touching metaphorically on topics like reproductive racial profiling from outer space.
Audience Reviews for InAlienable
½
Don't fooled by the amazing, artistic cover... this is a B movie with low quality special effects. The alien baby is an animatron and the alien toddler is a midget in a costume with heavy make-up that is border-line cheesey. (If it were made in the 1970s I would say the costume was pretty good, but this is 2010 and this low-budget film hardly competes with such movies as District 9.) I felt like I was watching a bad episode of Law and Order. There are a few middle-of-the-road actors, some are better than others, but most are just mediocre. The story centers around a doctor who has been impregnated by an alien lifeform that grows inside him like a tumor. After he gives birth to the monster, the government takes it away and does various tests on it. The doctor goes to court with a Habeas Corpus and tries to win custody of his "son." If you don't mind cheesy dialouge, mediocre costume/make-up, less than perfect acting, and a couple sex scenes, then give it a try. However, I would not watch this movie again nor would I reccommend it to anyone.
Dannielle Albert
Super Reviewer
½
You might fall a sleep on this one I did. A meteor hits the ear, a friend gives a doctor what?s left of the meteor, a doctor finds himself carrying the alien inside of him and gives birth to it. Proves to me anchor bay will put just about anything on disc, Piss poor, 2 1/2 stars.
Bruce Bruce
Super Reviewer
InAlienable Quotes
There are no approved quotes yet for this movie.
Discussion Forum
Discuss InAlienable on our Movie forum!