An Inconvenient Truth
(2006)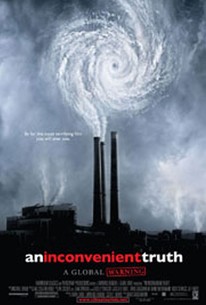 TOMATOMETER
AUDIENCE SCORE
Critic Consensus: This candid, powerful and informative documentary illuminates some of the myths surrounding its dual subjects: global warming and Al Gore.
An Inconvenient Truth Photos
Movie Info
Humanity is sitting on a time bomb. If the vast majority of the world's scientists are right, we have just ten years to avert a major catastrophe that could send our entire planet's climate system into a tail-spin of epic destruction involving extreme weather, floods, droughts, epidemics and killer heat waves beyond anything we have ever experienced- a catastrophe of our own making. If that sounds like a recipe for serious gloom and doom -- think again. From director Davis Guggenheim comes the Sundance Film Festival hit, "An Inconvenient Truth," which offers a passionate and inspirational look at one man's commitment to expose the myths and misconceptions that surround global warming and inspire actions to prevent it. That man is former Vice President Al Gore, who, in the wake of defeat in the 2000 election, re-set the course of his life to focus on an all-out effort to help save the planet from irrevocable change. In this eye-opening and poignant portrait of Gore and his 'traveling global warming show,' Gore is funny, engaging, open and downright on fire about getting the surprisingly stirring truth about what he calls our 'planetary emergency' out to ordinary citizens before it's too late.
News & Interviews for An Inconvenient Truth
Critic Reviews for An Inconvenient Truth
Audience Reviews for An Inconvenient Truth
An enlightening and terrifying documentary that should be mandatory viewing for those who still doubt the harmful impact of our actions in the planet, as it offers indisputable data to prove that there are a lot of unprecedented changes happening in the world now.
Carlos Magalhães
Super Reviewer
½
An Inconvenient Truth is a documentary built around Al Gore's turn on the lecture circuit concentrating on the causes and consequences of Global Warming. Because of this, it can feel a little like "The Al Gore Show" and it probably would've helped its credibility if he had included interviews with the actual scientists responsible for the data and its interpretation, but Gore's broad stroke approach makes for an interesting presentation that never gets too technical and as such is always easy to understand for the lay man. Of course anyone who does not wish to agree with the conclusions will decry it as propaganda but anyone who dismisses the obvious scientific consensus clearly either has an agenda of their own (namely the already obscenely wealthy afraid it will threaten their profit margins) or are just burying their head in the sand (namely people who do not wish to pay a few extra pennies of tax although when the cost of living increases exponentially thanks to failed crops and sky rocketing fuel prices, they sure will be kicking themselves...) There's little here that I didn't already know but that fact is actually quite astonishing as it proves that the information here has been readily available for decades, yet the capitalist elite and their political cronies are STILL dragging their feet when it comes to doing anything about it, even now! But the lasting impression the film made on me was the knowledge that an intelligent and eloquent man who was the true President Elect was cheated out of office by a man who was always going to be part of the problem and not part of the solution, which is yet another example of an appalling waste.
Altho the environment's the draw here, or Al Gore talking about it, what I found interesting is what had to happen in the privileged man's life to get him to the point of talking about it, which he reveals in segments between warning about our indulgences. Like the guy at a party warning that things might be getting out of hand he knows that no one wants to hear him, or will in fact actually listen, and that subtext adds layers to the slideshow presentation.
Kevin M. Williams
Super Reviewer
An Inconvenient Truth Quotes
There are no approved quotes yet for this movie.