The Incredible Melting Man
(1977)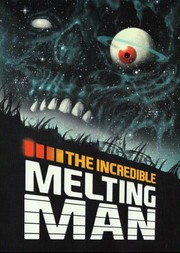 Tickets & Showtimes
The Incredible Melting Man Trailers & Photos
Movie Info
Alex Rebar stars as the title character, the lone survivor of a mission to Saturn whose exposure to a strange alien illness leaves the flesh dripping off his body.
more
Cast
News & Interviews for The Incredible Melting Man
Critic Reviews for The Incredible Melting Man
Audience Reviews for The Incredible Melting Man
½
The Incredible Melting Man is a decent B movie that displays some impressive special effects with a so-so storyline. This is one of those movies that should have been truly a memorable addition to the genre, but as it stands it's a mildly entertaining film that should have been much better than the finished product. Despite the so-so ideas on-screen, this is still a worthwhile film to watch due to effective effects, which are sure to please the most diehard gore hound. The film has a decent plot, but it could have been developed a bit more to really make this one stand out. I read that this film received a lot of flack; however I think it doesn't deserve all the negativity it has received. This film despite all its imperfections is a benchmark in special effects design and influenced many films years later. There are no standout performances as this is more a horror film that is designed to be a vehicle for its effects. With a decent story that is of course predictable, but is a fun film for what it is. If you enjoy low budget Schlock fests, then The Incredible Melting Man is the film to watch. Rick Baker's effects are the best aspect of the film, and really is the reason to watch the film. I enjoyed the film for what it was, and thought it was a really creative horror picture in terms of special effects, however the film could have benefitted from a rewrite in terms of storyline. Adding more depth to the film's story would have made The Incredible Melting Man a standout horror picture. Worth checking out and it is a gooey good time from start to finish despite its shortcomings.
½
Cheesy body-melt movie about an Astronaught who arrives back on earth after being hit by a solar wave in space which has caused his body to slowly melt away forcing him to kill and feed on others to renew his cells. Silly low-budget fun overall. The highlight of the movie is Rick Baker's gooey make-up effects. Most of the kills are off-screen but the gory aftermath is often shown in all its messiness. The Melting Man himself looks suitably disgusting constantly dripping with pus and blood. It's enjoyable for what it is, well worth checking out!
Discussion Forum
Discuss The Incredible Melting Man on our Movie forum!
News & Features