Indecent Proposal
(1993)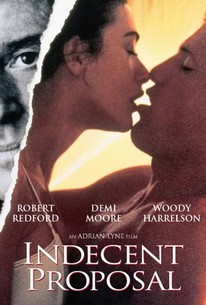 Movie Info
Adrian Lyne buffs the premise of Honeymoon in Vegas to a fine gloss in this yuppie melodrama that poses the conundrum of whether the loving husband of an equally loving wife will accept $1 million to allow his wife to spend one night with a billionaire who looks like Robert Redford. All the cynics please take a number and form a line at the right. Demi Moore and Woody Harrelson play Diana and David Murphy, high-school sweethearts who marry and who are doing very well -- Diana is a successful real-estate agent, and David is an idealistic architect who has built a dream house by the ocean -- until the recession hits. Suddenly, David loses his job, and they can't make the mortgage payments. Dead broke, they borrow $5000 from David's father and head to Las Vegas to try to win money to pay the mortgage on their house. At first, they get $25,000 ahead -- but inevitably the house always wins, and they end up losing it all. While Diana is in the fancy casino boutique trying to lift some candy, she is spotted by billionaire John Gage (Robert Redford), who is immediately attracted to her. John invites Diana and David to an opulent party, and it is there that John offers David $1 million for a night with his wife. David is wracked by this moral dilemma, but Diana finally makes the decision on her own, with ensuing consequences for their ideal marriage and their bank account.
News & Interviews for Indecent Proposal
Critic Reviews for Indecent Proposal
Audience Reviews for Indecent Proposal
½
Not at all inappropiate, but not exactly spot on with its clairvoyance.
Spencer S.
Super Reviewer
yes it is one big tease to start with! and whats that saying? "money cant buy love"...has a happy ending.....
Well-made, but I don't like these kinds of movies.
Tim Salmons
Super Reviewer
Indecent Proposal Quotes
| | |
| --- | --- |
| David Murphy: | I know now that people in love remember the things they do to each other. If they stay together, its not because they forget, but because they forgive. |
| | |
| --- | --- |
| John Gage: | Dance? |
| Diana Murphy: | I should go. |
| John Gage: | I remember once when I was young, and I was coming back from some place, a movie or something. I was on the subway and there was a girl sitting across from me and she was wearing this dress that was bottoned queer up right to here, she was the most beautiful thing I've ever seen. And I was shy then, so when she would look at me I would look away, then afterwards when I would look back she would look away. Then I got to where I was gonna get off, and got off, the doors closed, and as the train was pulling away she looked right at me and gave me the most incredible smile. It was awful, I wanted to tear the doors open. And I went back every night, same time, for two weeks, but she never showed up. That was 30 years ago and I don't think that theres a day that goes by that I don't think about her, I don't want that to happen again. Just one dance? |
Discussion Forum
Discuss Indecent Proposal on our Movie forum!