Indiscretion of an American Wife (Stazione Termini)
(1953)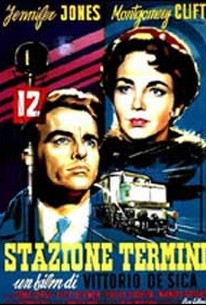 Indiscretion of an American Wife (Stazione Termini) Photos
Movie Info
Indiscretion of an American Wife began its life as a romantic drama entitled Terminal Station, directed with extraordinary skill and sensitivity by neorealist filmmaker Vittorio De Sica and starring Jennifer Jones and Montgomery Clift as a visiting American housewife and her Italian lover. Their tale was depicted against the backdrop of a hundred other stories and characters that De Sica presented in his 89-minute Terminal Station. In Indiscretion, however -- which was cobbled together at 63 minutes by producer David O. Selznick for the U.S. market -- theirs is the only one. Jones' Mary Hughs wrings her hands and wrestles with her conscience, but with no real depth, while Clift's Giovanni Doria emotes with jealousy and lust as she tries to leave him, gets off one train, waits for another, attempts to soothe the feelings of her confused and disappointed nephew (Richard Beymer), and ponders the idea of leaving her husband and marriage. The two accidentally run afoul of the authorities in the process, and risk exposure of their affair. This was a difficult shoot, beginning with the fact that Jones -- who always required lots of direction to give a consistent performance -- didn't speak Italian and De Sica spoke no English. In addition, the actress reportedly found Clift attractive in ways that reminded her of her first husband, Robert Walker; she also found his method-based approach to acting a challenge which she might have met, if only her husband at the time, Selznick, hadn't been deluging them with script changes on a daily basis. To further complicate matters, at some point after Jones found herself drawn to the Clift, she discovered that he was attracted to men, not women, and she reportedly flew into a destructive rage for the afternoon. Despite these problems, De Sica ended up getting a lot more of what he needed than Selznick did of what he wanted. Unhappy with the Italian director's finished 89-minute film and unwilling to challenge the American censors over some of the content (in connection with the tale of an adulterous wife and mother), Selznick, his editor, and writers (including Ben Hecht) went to work on it and delivered Indiscretion of an American Wife, a Hollywoodization of De Sica's neorealist masterpiece, but which lacked almost all of the most subtle elements of De Sica's movie. At times it seems like another attempt (à la Portrait of Jennie) to celebrate Jones' melodramatic screen persona, while elsewhere it focuses on Clift's tempestuous, exciting screen persona; but otherwise, there's very little "there" there, and the setting and scenes are a mere shadow of what was seen in De Sica's original Terminal Station. In 2003, both films -- and they are two separate movies that just happen to utilize the same footage -- were finally compiled under one cover, and in their optimal states, on a Criterion Collection DVD, and can be seen and compared for what they are.
Critic Reviews for Indiscretion of an American Wife (Stazione Termini)
Audience Reviews for Indiscretion of an American Wife (Stazione Termini)
½
Most of the movie is pretty exciting, but it's pretty boring the rest of the time, so it's not that great.
½
Muddled pointless drama with an overacting Jones and a curiously blank Clift. Heavily edited film makes little sense and offers no real involvement in it's story as it jumps without much cohesion from one point to another.
Indiscretion of an American Wife (Stazione Termini) Quotes
There are no approved quotes yet for this movie.