Inequality For All
(2013)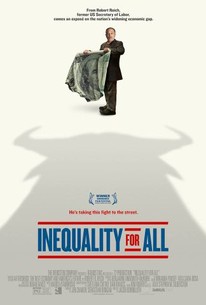 TOMATOMETER
AUDIENCE SCORE
Critic Consensus: While it arrives in a glut of similarly themed documentaries, Inequality for All distinguishes itself with a compelling presentation of an important message, as well as much-needed splashes of wit.
Inequality For All Videos
Inequality For All Photos
Movie Info
At the heart of the film is a simple proposition: what is a good society, and what role does the widening income gap play in the deterioration of our nation's economic health? We are endeavoring for INEQUALITY FOR ALL to be a paradigm-shifting, eye-opening experience for the American public. We want to accurately show through a non-partisan perspective why extreme income inequality is such an important topic for our citizens today and for the future of America.(c) Official Site
Rating:
PG (for thematic elements, some violence, language and smoking images)
Genre:
,
Directed By:
In Theaters:
On DVD:
Runtime:
Studio:
Watch it now
Cast
News & Interviews for Inequality For All
Critic Reviews for Inequality For All
Audience Reviews for Inequality For All
1 sided docs aren't always my favorite, but Reich is one man that knows what he's talking about. Denying the wage gap between the Top billionaires & the rest of us is like denying climate change.
Chris Cooper
½
Former US Labour Secretary Robert Reich's examination of the growing economic gap between the rich and poor makes for very sobering viewing in a kind of financial version of Al Gore's An Inconvenient Truth. If anything, Reich's reputation and employment history makes him an even more credible figure and he clearly and concisely explains how this massive inequality in the distribution of wealth occurred and how it will affect the workers of his country. Of course the entitled right will dismiss everything he says as "propaganda" and "socialism" but anyone with any sense of impartiality will see it as mere common sense; if the super rich continue extracting all the wealth from an economy and fail to inject anything back as they consistently do through tax evasion, investment in the financial sector instead of job creation and manufacture, and the use of offshore accounts and tax havens then the system becomes unsustainable. Reich himself makes an likeable and straight talking front man and although the film, like An Inconvenient Truth, is based upon a lecture, his affability and use of attractive and informative infographics means it never fails to entertain, despite the rather worrying message. Fascinating stuff and I'd have to say that anyone who still thinks that unfettered capitalism is a good thing after viewing this film must be the economic equivalent of a Creationist!
½
This documentary directed by Jacob Kornbluth examines widening income inequality in the United States through the eyes (and narration) of the American economist, author and professor Robert Reich. Someone noticed that it is a book that pretends to be a movie, but with a colourful character like Reich that statement just made no sense! The film premiered at the 2013 Sundance Film Festival in the Documentary Competition section, and won a U.S. Documentary Special Jury Award for Achievement in Filmmaking. Definitely not a book award. The widening income inequality in the U.S.-currently at historic highs-gives Reich an opportunity to explores what effects this increasing gap has not only on the U.S. economy but American democracy itself. At the heart of the film is a simple proposition: What is a good society and what role does the widening income gap play in the deterioration of the nation's economic health? Robert Reich, author, professor at the University of California, Berkeley, official in three administrations, including United States Secretary of Labor under Bill Clinton, narrates the film. Reich is a thinker on the topic of inequality, having spoken on the subject for nearly three decades. He gives a personal touch to every segment and that is what it makes this documentary to work the best possible way. Public awareness of the issue of income inequality is not new, it has gained a momentum in the wake of the 2007-08 financial crisis and the rise of the Occupy movement. Over the last thirty years, before the latest recession, the U.S. economy doubled. But, according to this documentary, these gains went to a very few: the top 1% of earners now take in more than 20% of all income-three times what they did in 1970. Distortions are even more extreme at the very top. The 400 richest Americans now own more wealth than the bottom 150 million combined. While this level of inequality poses a serious risk to all Americans, regardless of income level, much of the rhetoric on this subject has been fuelled by anger and resentment from a frustrated middle class who feel their birthright - the American Dream - has been taken away from them. Very educational and relevant but sometimes to dry to swallow... all I have to say after watching it is - I am glad I am from Australia!
Discussion Forum
Discuss Inequality For All on our Movie forum!
News & Features