Infection: The Invasion Begins
(2010)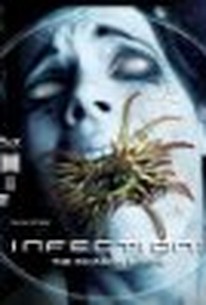 AUDIENCE SCORE
Critic Consensus: No consensus yet.
Infection: The Invasion Begins Videos
Infection: The Invasion Begins Photos
Movie Info
A mystery surrounds a small town that was wiped out on September 9, 2009. Now, sixty years later, Sarah, the last survivor, sends a reporter a letter suggesting what really happened on that day. The government calls 9/9/09 the start of The Modern Plague. The reporter soon realizes her search for the truth may be harder to uncover than the lies...
Rating:
NR
Genre:
,
Directed By:
On DVD:
Runtime:
Critic Reviews for Infection: The Invasion Begins
There are no critic reviews yet for Infection: The Invasion Begins. Keep checking Rotten Tomatoes for updates!
Audience Reviews for Infection: The Invasion Begins
Wow. That's really all I can say about this movie. What the hell is Lochlyn Monro doing in this piece of crap? He deserves much better.
Ryan Kinder
Infection (Howard Wexler, 2010) Wow, this movie is bad. Bad in a Sci-Fi Channel Original Movie with Even Worse CGI bad. Bad as in "what in the world were you thinking when you came up with this silliness?" bad. Alien invasion stupidity (a lot of reviewers have compared it to Cronenberg's Shivers, though I don't give Wexler credit for knowing that much film history; Slither is a much more recent analogue) with a really, really cheap-looking sci-fi frame set sixty years in the future. Plot: on September 9, 2009 (the day, we are told in the frame, that the "Modern Plague" began to decimate America-I have visions of computer viruses jumping from PCs to people, but no detail is given on what that is, exactly), a meteorite lands in a small town. It contains wormlike parasites looking for hosts, and immediately starts infecting anyone who comes near it. Meanwhile, Deke Evans (The Healer's Son's Bryan Brewer, who also wrote the script) has come back to town after doing ten years for murder. One of his old classmates, Bowen (Unforgiven's Lochlyn Munro), is now the country sheriff, and all he wants is Deke out of town on a rail. All Deke wants is to pick up his stuff from his mom's house (she doesn't want to see him, either), pick up his old girlfriend Sarah (Elizabethtown's Kelly Pendygraft), and find that rail. Problem is, he bumps into his mom, who has all kinds of venomous words for him, and Sarah is hanging out with another of Deke's old classmates, Billy (Stonerville's Brian Guest), the knuckle-dragging jock. Oh, and of course, there are a bunch of people roaming around the perimeter of town who have been infected by the alien parasite. And, of course, the only person who sees something is wrong is Deke... Hits every cliché in the book, and hits them hard, with a steel mallet. Acting is pretty awful given the quality of some of the cast (Kent Faulcon from American Beauty plays the deputy who Deke manages to convince there's something going on, Voyage to the Bottom of the Sea's Terry Becker is Sarah's grandfather, Deke's mom is played by the wonderful character actress Marcia Moran), the effects are ludicrous, and if that sci-fi frame isn't some of the worst film you've seen in the last year, I'll eat my hat with mustard. *
Robert Beveridge
Infection: The Invasion Begins Quotes
There are no approved quotes yet for this movie.
Discussion Forum
Discuss Infection: The Invasion Begins on our Movie forum!