Inferno
(2016)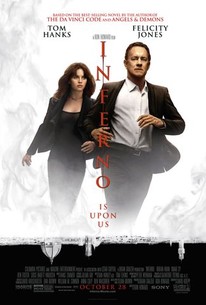 TOMATOMETER
AUDIENCE SCORE
Critic Consensus: Senselessly frantic and altogether shallow, Inferno sends the Robert Langdon trilogy spiraling to a convoluted new low.
Movie Info
Tom Hanks reprises his role as Harvard symbologist Robert Langdon in director Ron Howard and screenwriter David Koepp's adaptation of author Dan Brown's bestselling novel Inferno, which finds Langdon using Dante's The Divine Comedy as a tool in the race to prevent a devastating global pandemic. ~ Jason Buchanan, Rovi
News & Interviews for Inferno
Critic Reviews for Inferno
Audience Reviews for Inferno
½
With some of the least clever puzzles in the Brown oeuvre, "Inferno" proves that even hell can be made boring.
Christian C
Super Reviewer
A movie so fast paced and rushed that it almost doesn't give us time to realize how ludicrous the plot is and how little sense it makes, with so many holes and inconsistencies, a lot of empty exposition and even Langdon constantly suffering from laughable "flashback crisis."
Carlos Magalhães
Super Reviewer
From the very beginning, I never found this franchise all that special. Sure, the novels received enough praise to warrant at least one adaptation, and even though The Da Vinci Code was not very well-received, it made tons of money. For that reason alone, of course they were going to continue in making Angels and Demons. I will be the first to admit that the first film is not the best it could have been, but I quite enjoyed myself while watching Angels and Demons. That being said, I felt no urge to see another. That absent urge was felt for a reason. Even for low bar set by its predecessors, Inferno proves that not every successful film franchise is worth continuing. I really disliked this film as a whole, and here is why. Although I never found the first two instalments to be great films, they found a way to always keep me intrigued with their overall premise. This is what Inferno fails at the most. Following Robert Langdon once again after he has had a loss of memory, he tries to figure out exactly why he is in Italy. Escaping with his nurse, Dr. Sienna Brooks, they become involved in a global plot that will eventually wipe out the entire human race. Memory loss, global terrorism, and cliched character arcs fill this film, making it wholly unoriginal. There are quite a few compelling moments between Tom Hanks and Felicity Jones, but they are too far in between one another that the premise needs to keep its audience engaged, which this instalment does not. When it comes to selling your film, it does not take much when a big name star is attached like Tom Hanks. That being said, this film is not becoming the successful blockbuster that its predecessors were able to accomplish. It just goes to show that when an audience has grown tired of a certain series, there is no reason to bring it back. Same thing goes for older properties being brought back, forcing the studios to lose tons of money. When you know for sure that a film will make money, like Star Wars: The Force Awakens, then it would be a smart idea to come up with something fresh for its audience. When Angels and Demons was released, it made half of its predecessors box office, so waiting over seven years for a sequel was a huge mistake in my opinion. Tom Hanks and Felicity Jones are great choices to sell a film like this, but without a good enough premise, it will very quickly fall off the radar. Filled with more twists in its third act than the first two films have in general, my mind was being sent through a loop. There are character actions that feel forced in order to have a big conclusion and when all is revealed about Langdon's past and exactly why he had lost his memory in the first place, I found myself rolling my eyes. At least the twists in the previous films felt earned, even though they were slightly over-the-top. Inferno manages to include certain characters in its story that help making the reveal more interesting (i.e Irrfan Khan), but it is not enough to keep the film afloat, as a whole. With Ron Howard at the helm once again, Tom Hanks in the lead, and adding in newcomers that almost begin to act circles around Hanks, this film should have at least been the best of the three. Instead, it is a reminder that this film did not have to continue after The Da Vinci Code. Yes, I know these films have a fan base and that some even love them. If that is the case for you, I do feel that there is some enjoyment to be had here, but I still feel that you will admit that it is the weakest overall film. In the end, it may have some entertaining aspects for fans of the novels or previous films, but it is just not that interesting of a tale. The first two were interesting due to the fact that Robert Langdon was so smart, but having him remember nothing felt uninteresting in my opinion. Inferno is the weakest of the three, and quite honestly, not a very good film.
Inferno Quotes
| | |
| --- | --- |
| Bertrand Zobrist: | There is a switch. If you throw it, half the people on earth will die, but if you don't, in 100 years, the human race will be extinct. You are humanity's final hope. |
Discussion Forum
Discuss Inferno on our Movie forum!