Infra-Man
(1976)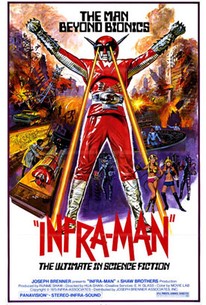 AUDIENCE SCORE
Critic Consensus: No consensus yet.
Critic Reviews for Infra-Man
Audience Reviews for Infra-Man
The Shaw Brothers are famous for producing hundreds of kung fu movies, but The Super Inframan ("Chinese Superman") is their response to the popularity of imported Japanese kids shows like Ultraman or Kamen Rider. The "plot" surrounds an evil space witch who attempts to conquer Earth with a gang of awkwardly-costumed monsters and an army of astonishingly flammable henchmen. Her main obstacle lies in the fighting prowess, rocket boots, and hand-animated laser beams of the titular cyborg. The Super Inframan has all the wacky costumes, colorful sets, and ludicrous storytelling of the programs it liberally borrows from, but this movie also contains the tight, balletic fight choreography that's emblematic of a Shaw Brothers film. It's no wonder that the ensuing decades have seen this movie become a minor cult classic.
Ryan Valentine
This movie is just insane. To be honest, I'm shocked such a film exists. Well, let me just start off by saying, this movie is pretty much about explosions. Anything that happens in this movie is usually followed by a cheesy explosion. The plot is short but sweet, a demonic princess summons a bunch of cheesy monsters to do her bidding. The monsters are great if you are a "Godzilla" fan or even maybe a "Power Ranger Fan". So it should definitely peak your interest. The rest of the story is just our hero, fighting through various monsters with plenty of cheap explosions. There isn't really much I can say overall for this movie so I will try my best. You really have to see it for yourself, its from Japan and its just incredible overall. The way this movie was filmed just blows my mind. In some points within this movie, that are just odd. When the Inframan is finally formed, he arises three times from the same different angle as if it loops. But all of that aside, I would like to address the beginning of this film. The beginning is just a seizure inducing mess that is extremely trippy and bizarre. It just makes me wonder what the entire point of this introduction was. So after getting through that mess, the movie starts. Although the movie is quite crazy at times it is interesting nonetheless. So give it a try, its crazy but worthwhile. The storyline is a bit of a joke, but the action is good and I give it an 80% because of its sheer originality. Definitely check it out.
Chad Halsman
½
Doing everything that Infra can! Yea if that Ironman movie ever gets made, or I review the cartoon, I'll probably be using that opening again. This movie involves Princess Dragon Mom trying to take over the world. A scientist uses a young volunteer to make Infra-Man, a cyborg of unlimited possibilities. Pretty simplem, my summary doesn't give you the full effect of the movie though. Its actually a pretty fun movie to watch. Infra-Man acts like an old robot anime. Just when you think hes down and out a new power all of a sudden pops up. You'd think it'll get annoying, but its just funny. I'm not sure if its ment to be, but I laughed. This movie is really fun to watch, and if you happen to find it, you should sit down with a bunch of friends and watch it. You'll all probably get a good laugh by all the crazy things in this movie.
Chris Sparks
Infra-Man Quotes
There are no approved quotes yet for this movie.