Ingrid Goes West
(2017)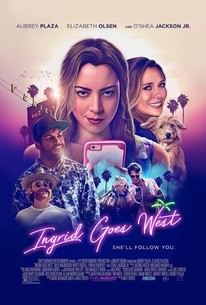 TOMATOMETER
AUDIENCE SCORE
Critic Consensus: Led by strong performances from Aubrey Plaza and Elizabeth Olsen, Ingrid Goes West delivers smart, topical humor underlined by timely social observations.
Movie Info
Ingrid Thorburn (Aubrey Plaza) is an unhinged social media stalker with a history of confusing "likes" for meaningful relationships. Taylor Sloane (Elizabeth Olsen) is an Instagram-famous "influencer" whose perfectly curated, boho-chic lifestyle becomes Ingrid's latest obsession. When Ingrid moves to LA and manages to insinuate herself into the social media star's life, their relationship quickly goes from #BFF to #WTF. Built around a brilliantly disarming performance from Aubrey Plaza, Ingrid Goes West (winner of the Waldo Salt Screenwriting Award at Sundance) is a savagely hilarious dark comedy that satirizes the modern world of social media and proves that being #perfect isn't all it's cracked up to be.
News & Interviews for Ingrid Goes West
Critic Reviews for Ingrid Goes West
Audience Reviews for Ingrid Goes West
Really enjoyed this one. Definitely be watching it again. So relevant to all the falseness online and I really enjoyed Ingrid's stalker tendencies!
Nicki Marie
Super Reviewer
½
I'm super uncomfortable in a really good way.
½
While technology surrounds us each and every day, we really don't look to the negativities of it all that much. Sure, there are trends that people follow throughout social media and certain apps that become popular, but you never really hear about stories like the one told in Ingrid Goes West. While this isn't a true story, the elements feel very realistic and this can be a very hard film to watch at times, in terms of its daring subject matter. When you step back and look at how much popularity can consume someone, it becomes a very scary thought, which is exactly what makes this movie so great. Here is why believe Ingrid Goes West is a very relevant movie and one that's worth your time. Being a loner and having nothing to do with her life after the passing of her mother, Ingrid uses those funds to Tavel to Los Angeles in order to stalk and befriend a famous Instagram persona in Taylor Sloane. Very quickly becoming friends after setting everything up perfectly, this movie comes off as more of a quirky comedy throughout the first act, but that aspect very quickly devolves into a gut-wrenching story of lies and deceit. This is a harmless premise that seems like it could almost be too annoying to watch at first, but the material present as this film comes to a close, is worth the price of admission alone. Aubrey Plaza is great in her own way at almost everything she does. I've come to like her in pretty much everything I've ever seen her in, but I believe the show-stealer is Elizabeth Olsen here. She hasn't really been given many meaty roles to dive into, and while I wouldn't exactly call this a meaty role, she definitely brings her all here and makes you believe in this "perfect" character. The bond that Plaza and Olsen share leapt off the screen, almost to the point where I found myself upset that this wasn't;t a true friendship that was going to last throughout the entire duration of the film. This was to be expected though, due to the fact that this film needed a few emotionally challenging moments in order to earn its welcome. This is simultaneously a very difficult, yet easy film to watch. Through the quirky and loveable performance that Plaza delivers here, her dark and depressing side also needs to be present in order for the film to feel like it had a payoff. Without spoiling anything, the third act spirals out of control (in a good way), providing some very deeply emotional moments, making you truly feel for certain people out there in the world and how fame can really get to someone's head. While the thoughts and actions that Ingrid goes through are definitely not something all celebrities go through, this is a story that happens far too often in the real world. Using popular terms like hashtag and countless other abbreviations throughout the film, I can easily see many viewers being turned off, especially if they're not familiar with today's lingo. Ingrid Goes West is a film for those from the ages of 14 and up. Yes, some of the material is a little harsh for younger viewers, but kids in high school are just as likely to end up like Ingrid does as anyone else is. With a very good and well planned screenplay, accompanied by solid direction and wonderfully realistic performances, I found this movie to be near perfect for what it set out to accomplish. Sure, it does have a few annoying lines of dialogue throughout and you will most certainly hate a lot of the characters, but that's also the point. In the end, this is a very relevant film for todays day in age, so it comes highly recommended in my book.
Ingrid Goes West Quotes
There are no approved quotes yet for this movie.