Inkubus
(2011)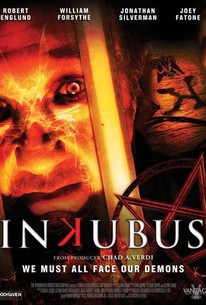 AUDIENCE SCORE
Critic Consensus: No consensus yet.
Movie Info
Produced by Chad A. Verdi, Inkubus tells the story of a skeleton crew working the final shift at a soon to be demolished police station. The night takes a gruesome turn when the demon, Inkubus (Robert Englund), calmly walks into the station holding the severed head of a murdered girl. Inkubus toys with the crew, allowing himself to be restrained, and begins to proudly confess to his litany of crimes, some dating back to the Middle Ages. Why? Inkubus has a score to settle with the one detective (William Forsythe) that almost put him away some thirteen years ago. To their dismay, the cops quickly become pawns in Inkubus' brutal crowningachievement of murder, gore, and mayhem. They ultimately realize it's his world, they only die in it. -- (C) Official Site
Rating:
R (for horror violence/gore, language and some sexuality)
Genre:
Directed By:
Written By:
In Theaters:
On DVD:
Runtime:
Studio:
Critic Reviews for Inkubus
There are no critic reviews yet for Inkubus. Keep checking Rotten Tomatoes for updates!
Audience Reviews for Inkubus
½
Inkubus (Glenn Ciano, 2011) Glenn Ciano's debut film, Inkubus, is not all that great, though in hindsight it is leagues better than his followup, Infected. But then he's starting from a pretty good place: casting Robert Englund (Nightmare on Elm St.) as a demon who walks into a police station during the night shift and starts confessing to almost seven hundred years' worth of crimes. Why this station? You'll find out eventually, if you stick around long enough. Whether you will want to or not depends entirely how you feel about Robert Englund; this is his movie entirely, and if you feel he's good enough to carry it, then you'll probably like it. I was less impressed. * 1/2
Robert Beveridge
Fans of Robert Englund are true fans and very forgiving, but Inkubus makes that very difficult. A decent premise, but the film is a muddled mess with logical inconsistencies and some real performance stinkers. See almost anything else with Englund (or Forsythe or Silverman or even Fatone) and you'll probably enjoy it more.
John Wagner
I'm really not sure how anyone managed to talk Robert Englund into this. While the story itself isn't actually too bad, the terrible effects and even worse production make the whole movie laughable. Joey Fatone is solid in his role, and Robert Englund is more or less creepy, but besides that, this is a waste of time.
Amanda Hendsbee