In Laws, Out Laws
(2005)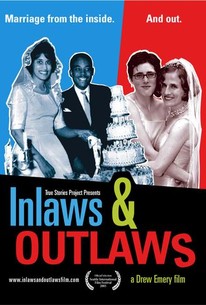 AUDIENCE SCORE
Critic Consensus: No consensus yet.
Movie Info
At a time when the debate over gay marriage rages with more intensity than ever before, documentary filmmaker Drew Emery explores just what it means to be in love and exchange wedding vows by examining the institution or marriage from both the inside and the outside. In speaking with couples who come from all walks of life and various age groups, Emery attempts to look past the rhetoric to discover the true power of love in all it's many forms.
Rating:
NR
Genre:
,
Directed By:
Written By:
In Theaters:
Runtime:
Critic Reviews for In Laws, Out Laws
All Critics (2) | Top Critics (2) | Fresh (0) | Rotten (2)
Because [director] Emory doesn't grapple fully with the issues that loom over the film, there is something soppy and soft-headed about Inlaws & Outlaws.
Los Angeles Times
Top Critic
Its 104 minutes of lukewarm-'n'-fuzzy comfort food will no doubt satisfy some, but those looking for deeper insight into our nation's peculiar mating rituals will feel left out.
Audience Reviews for In Laws, Out Laws
Not Profound, but Moving The discussion this film is having will continue to be heated for some time, I suspect. Of course, the film is trying to sidestep the controversy; it's just talking about relationships. There are a few small mentions of marriage, but more of them are about the weddings straight people had--or people trying to pretend to be straight. Mostly, we talk about the kind of thing that everyone shares. People talk about meeting their loved ones, realizing who they are and what they want from life, dealing with family, and so forth. The filmmaker was quite firm on the subject that the movie wasn't about gay marriage or straight marriage, just marriage. These are just people. Yes, the film is full of stories about gay couples and gay life, but they are interspersed with stories about straight couples and straight life. And, okay, some of the straight couples have led less than conventional lives, but I think we as a society are coming to terms with less than conventional lives. Heck, my Catholic mother is understanding of, if not happy about, the fact that Graham and I are living together and not married. It probably helps that I have a really, really good reason for each half of that. The theory, I think, is that knowing these stories and putting them in the context of Just People will help convince society as a whole that it's Okay to Be Gay. And, indeed, some of these stories are striking. There are all kinds of stories, from the woman who planned to marry her husband in a simple ceremony but got talked by her mother into the whole thing to the pair of Mormon women who loved each other desperately and knew it but couldn't bear to go against their church until they couldn't bear to be apart anymore to the man who got married because he thought he was supposed to--and his now-ex-wife. Yes, these are mostly stories of happy relationships. The one unhappy relationship was already dissolved by the start of the film, though both people from it are able to talk now as friends. Then again, we like seeing happy people, and happy relationships are more likely to make the point. Not only that, but there are single people as well. I do not, I admit, remember much of anyone's names, but there is an older man who tells stories about his fifty-year relationship with another man. At the end of the film, he talks about his lover's death, and it's quite obviously more than just whatever shallow emotion some people think it must be. This is a man who, even years later, is still grieving quite deeply. Because, you know, fifty years. This has hurt him, and it continues to hurt; he even starts breaking down again as he tells us about those last few moments of his lover's life. And then, in great pain, he tells of dealing with the government of his lover's funeral. His lover had been in the Army Air Force during World War II, and it's obvious that this man is proud of his lover's having served his country. Only because the man was not his lover's "family," he was not entitled to the flag covering his lover's casket. There is hurt there, and that hurt will not go away for this man. No one will ever be able to make that better for him. I suspect that, in general, if you're not convinced by these stories that these people have relationships worth celebrating, it's because you won't be convinced for whatever reason. Realistically, if you took pronouns and gender details out of most of these stories, you wouldn't be able to tell which were stories of being gay and which were stories of being straight. There are obvious exceptions--those two women who gave up their happiness for what they thought they should be doing, for example--but the conflicts of the two young women choosing their wedding dresses are not unlike the difficulty the older woman had with her mother's making decisions for her about her wedding. I'm sure I overuse this quote, but I must go back to Pete from [i]The Muppets Take Manhattan[/i]: "Peoples is peoples." Does it matter that one young couple is two women, one two men, and one a man and a woman? However, it is not exactly unknown that there are people who do think it matters. Quite a lot. They will talk a great deal about why it matters, and I don't think being quiet and just listening for a minute will change things for them. And that's all this movie really is. It is encouraging us to be quiet and just listen for a minute. If you're looking for great insights, don't look here. The thing is, the small insights involved here seem to be ones which some people still haven't had. Not even just about the gay couples, either. The filmmaker, in the making-of, says that we don't talk much about love, and it's true. Even though we may think our culture is submerged in love, and "romantic" movies swarm the box office, none of them are really about the long-term of relationships, and when they are, they're almost always about relationships that are falling apart. Most of these people are in steady, stable relationships; some of those relationships have lasted decades. The oldest of the men, the man who tells the story of his dead lover, says that he thinks people give up on relationships too easy these days, that all relationships have ups and downs that you have to weather, and I think that's a message that people need as much as the one that it's Okay to Be Gay.
Edith Nelson
½
Mostly uninteresting apart from a few individuals. I have no idea what the jazz singer interludes were all about.
David Halberstadt
This little documentary is a beautiful, sensitive examination of how love develops between two people - regardless of gender. It is exceptionally well done.
Michael W
In Laws, Out Laws Quotes
There are no approved quotes yet for this movie.
Discussion Forum
Discuss In Laws, Out Laws on our Movie forum!