The Inner Life of Martin Frost
(2007)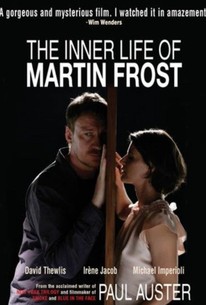 The Inner Life of Martin Frost Photos
Movie Info
A successful American novelist who has retreated into the country following the publication of his most recent book meets a most mysterious muse in director/screenwriter Paul Auster's elliptic psychological drama. His latest novel an instant success, famous author Martin Frost (David Thewlis) decides to celebrate by spending some quality down time in a remote country home. Awakening his first morning in the house, Martin is shocked to find that he is sharing his bed with a stunningly beautiful woman. Over the course of the next few days, Martin becomes increasingly fascinated with the mysterious visitor's radiating beauty and acute intelligence - eventually falling deeply in love with her. Could this woman who possesses an uncanny knowledge of Martin's life and work perhaps be the muse who will inspire his greatest work? The closer Martin tries to get to the woman the further she seems to drift away, a disturbing development that eventually leads the author to suspect that she is a figment of his imagination or a ghost that has somehow gained access to his most intimate thoughts.
Critic Reviews for The Inner Life of Martin Frost
Audience Reviews for The Inner Life of Martin Frost
Martin Frost retreats to his friends' up-state cottage, and as a story comes upon him, he falls for a beautiful, mysterious woman. But when he finishes writing his story, she dies, and she miraculously comes back to life when he burns the only copy of the story. Together they must work out how to trick the hidden "muse gods" so that they can live together. This is the plot of The Inner Life of Martin Frost, and like most of Auster's plots, it sounds simple to the point of banal, magical to the point that it defies suspension of disbelief. But these criticisms underestimate the feeling of an Auster story. His work rises organically out of the characters, seemingly created by the characters instead of their author. And this is the point of the film. Do we create our lives, or are the events that shape us brought upon us? This theme is similar to his novel The Travels in the Scriptorium, which includes cameos by characters in his other books. Likewise, the film explores the relationship between an artist and his art. In Smoke Thomas responds to the story of Bakhtin smoking his book by saying, "No writer would do that." Apparently Martin Frost would. The question is would an artist sacrifice his art for his life? Auster says yes, but his eventual obsession with Claire and when he tries to turn her into art, we wonder if that "yes" is definitive. Not many people on Flixster, including critics, liked this film, but fans of Paul Auster's fiction and existential, allegorical stories will be like pigs in shit.
Jim Hunter
Super Reviewer
The Inner Life of Martin Frost Quotes
There are no approved quotes yet for this movie.
Discussion Forum
Discuss The Inner Life of Martin Frost on our Movie forum!