Innocent Blood
(1992)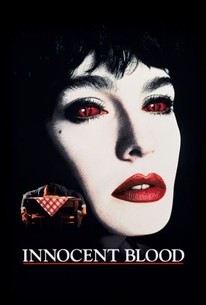 Movie Info
John Landis tries to replicate the quirky gory horror/sick-comedy "vein" he mined in An American Werewolf in London in Innocent Blood. Anne Parillaud plays Marie, a lonely vampire trapped in Pittsburgh and looking for some fresh blood. When a local gang war breaks out, Marie sees it as the perfect cover for her blood feasts. Her plan is to dine on the goodfellas ("What about Italian?" she asks) and then destroy the evidence of her supper with a well-directed gun blast. But the coroner sees something usual when he gets to examine the gangland corpses, "There's a problem. Not enough blood. This guy's about five quarts too low." Meanwhile, an undercover cop named Joe Gennaro (Anthony LaPaglia) begins to suspect that Marie might be responsible for the killings after witnessing her lighter-than-air stunts in a church after some gangsters attack her. Things get more complicated when Marie seduces mob-boss Sal "The Shark" Macelli (Robert Loggia). Unable to finish her snack, Sal escapes and becomes one of the undead -- back from the grave but lusting after blood. Sal wants to start a new race of mob vampires, DeadFellas. This forces Marie to team up with Joe to stop Sal's blood brothers from taking over Pittsburgh.
People Who Like this movie also like
Critic Reviews for Innocent Blood
Audience Reviews for Innocent Blood
½
unsuccessful film from the mind of an american werewolf in london. same concept just never works
Brendan Nicholls
Super Reviewer
½
A kind of partner or sequel almost to his mighty werewolf flick, Landis' movie is underrated and a truly thrilling ride. The idea is a nice take on the vamp line but the word vampire is never used in the whole film, it is about vampires but not officially for some reason. Like 'Werewolf' the effects are really good, even now compared to cgi, the eye effects look cool and the finale effects on the baddie look great as well. Think of it as a mafia vamp flick :)
Phil Hubbs
Super Reviewer
Innocent Blood is a movie I just can't stand. I know it's not trying to be great, but it's so bad I had trouble making it through the whole thing. John Landis has made good movies that I've really liked, so it's weird I hate this so much. The whole vampires-mob plot was just a little too much.
Melvin White
Super Reviewer
Discussion Forum
Discuss Innocent Blood on our Movie forum!