Insecticidal
(2005)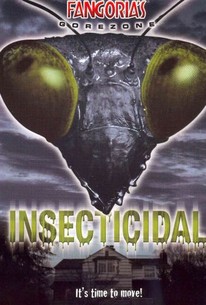 AUDIENCE SCORE
Critic Consensus: No consensus yet.
Movie Info
A sorority girl studying for a career in entomology finds her tiny subjects blown up to dangerous proportions when her insect-hating sisters inadvertently dose them with super-growth spray in director Jeffrey Lando's campy, sorority-house chiller. All Cami ever wanted was to study her insects in peace, but her collection of insects has really started to bug her sisters, and they've made a decision to do something about it. Their perfect plan for extermination goes horribly awry, however, when the insecticide that the girls thought would kill the bugs actually blows them up to dangerous proportions. Now trapped in the house with some seriously nasty bugs, the girls gear up to fight for their lives as the tables are turned and they are the ones targeted for extermination.
Critic Reviews for Insecticidal
Audience Reviews for Insecticidal
??????????????? I bought this movie, and I was rolling on the floor laughing at how bad it was, but it wasn't even laughably enjoyable. What kind of good movie has a bug killing someone in the shower?
½
If you're looking for a film about killer bugs, then this is certainly a film about killer bugs. Terrible CGI means they are hardly the terrifying vengeful beasts they should be, the praying mantis even looks cute at times. The acting is also hit and miss, but even the hits aren't going to leave a bruise. It does have gratuitous shower scenes, some rather disturbing sex/kill scenes and Samantha McLeod's breasts, which quite frankly take up every shot they are in. Other than that there are a few things to laugh at such as the patchy dialogue and the repetitive use of shots. Sometimes this places characters next to people who are else where. Never the less decent crap.
Luke Baldock
Super Reviewer
Insecticidal Quotes
There are no approved quotes yet for this movie.