Inside Daisy Clover
(1966)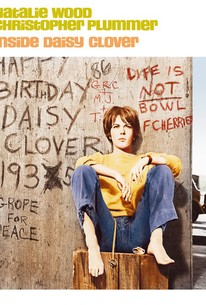 Inside Daisy Clover Photos
Movie Info
Daisy Clover (Natalie Wood) goes from teenage girl to movie star practically overnight when her demented mother enters her voice in a talent-search contest. From a broken-down carnival on the Santa Monica Pier, in no time at all she is attending glamorous Hollywood parties. But Daisy soon learns that misery and pain go hand-in-hand with fame and fortune. Before Daisy completes her first film, the studio execs have her mother committed to an asylum without permission. Daisy tries to find happiness in a series of unfulfilling romances, her one-day marriage to Wade Lewis (Robert Redford) leaving her alone and divorced. After her mother dies, Daisy has a nervous breakdown and refuses to work, but the cold-hearted studio moguls threaten her with starvation if she does not report back to the soundstage. Christopher Plummer, Ruth Gordon (in an Oscar-nominated performance) and Roddy McDowell co-star in this story of a Hollywood dream that turns into a nightmare.
Critic Reviews for Inside Daisy Clover
Audience Reviews for Inside Daisy Clover
Bizarre, WTF satire (?) of Hollywood fame and its affect on those stars passing through its gates. From the get-go, you have next to no idea what the heck this movie is shooting for. I have no idea what the novel was like, so I have no idea whether this film is completely off-base, or is it just unsuccessfully trying to adapt an "un-adaptable" book. Garish, unpleasant, pointless.
John Miller
½
This is such a disappointing movie! It's got a fantastic cast, but it wastes them on a cliched, predictable, old story with nothing new to offer. I will say that it has some good moments, but overall it's a let down, especially the end.
"Inside Daisy Clover" is the earliest movie I've seen that features an actress play on the same field as any of the top actors of the time. Natalie Wood never really got the credit she deserved as an actress, and this was the reason she became the legend she's remembered as. The supporting cast is amazing with Christopher Plummer as the very creepy studio executive and Robert Redford as a closeted Bi-Sexual actor, which seemed incredibly revolutionary for the time it was made. It's kind of the female version "Rebel without a Cause" mixed in with a demented Sherry Temple story.
Nelson Pickens
Super Reviewer
Inside Daisy Clover Quotes
| | |
| --- | --- |
| Daisy Clover: | All I can say is "What's the point?" |
| Daisy Clover: | All I can say is 'What's the point?' |
Discussion Forum
Discuss Inside Daisy Clover on our Movie forum!