Inside Job
(2010)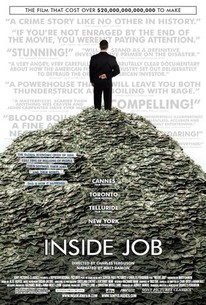 TOMATOMETER
AUDIENCE SCORE
Critic Consensus: Disheartening but essential viewing, Charles Ferguson's documentary explores the 2008 Global Financial Crisis with exemplary rigor.
Inside Job Videos
Inside Job Photos
Movie Info
From Academy Award (R) nominated filmmaker, Charles Ferguson, comes "Inside Job," the first film to expose the shocking truth behind the economic crisis of 2008. The global financial meltdown, at a cost of over $20 trillion, resulted in millions of people losing their homes and jobs. Through extensive research and interviews with major financial insiders, politicians and journalists, "Inside Job" traces the rise of a rogue industry and unveils the corrosive relationships which have corrupted politics, regulation and academia.
Rating:
PG-13 (for some drug and sex-related material)
Genre:
,
Directed By:
Written By:
In Theaters:
On DVD:
Runtime:
Studio:
Cast
News & Interviews for Inside Job
Critic Reviews for Inside Job
Audience Reviews for Inside Job
Sobering view of unchecked greed and irresponsibility. After watching a series of consciousless slimeballs spew stonewalling crap you'll feel the need for a shower.
Brilliant documentary on the financial crises, Inside Job delivers an engrossing portrait of what happened in 2008, and is a film that is narrated by Matt Damon. Brilliant in the way that it focuses on its important subject, this is a must see documentary that anyone interested in the topic should watch. Featuring key interviews, Inside Job goes in depth about the financial crises of 2008. The content will make you think and angry as well. The film doesn't shy away from anything and it's a very well crafted documentary that should be seen. The film is unique and is a great film to watch to get a better idea of how it happened. Featuring several eye opening interviews, Inside Job is an accomplished film about this controversial topic. Brilliant in the way it goes in its subject, the documentary sheds light on many issues on the crises and director Charles Fergusson gives the viewer a much insight about how the economy collapsed and it's an enraging account and makes you ask several important questions. Watching this made me realize one thing as well, the poorer get poorer and the richer get richer. I really enjoyed this documentary, and I feel it's one of the most important documentaries to come out in a long time. Damon's narration on the subject highlights everything you need to know and it keeps you hooked from the moment the film starts, right up to the end. To me, it's absolutely sickening that bankers were able to make a profit, while the economy was failing. Because of the 2008 crises, many regular people have had a hard time recovering. This is a documentary that is eye opening, infuriating and thought provoking, it's one of the finest documentaries I've seen, and it's one that shouldn't be missed.
½
An incredibly well paced and focused documentary that puts Wall St Greed right in your face, Inside Job should be mandatory viewing for every single person on the planet - especially if you think for even a New York minute that your vote means anything at all. In this scathing, well told expose, writer and director Charles Ferguson is somehow able to unravel the byzantine ins and outs of our current economic engine and expertly show us in layman's easy to understand terms things like derivatives and leverage, while exposing the greed and arrogance of those architects on Wall St. I've never seen such a compelling, insightful tale that holds your interest while parading a series of talking heads into view. The masterful editing of interview, media footage and graphics give such insight and reveal the truth: we the people are owned lock stock and barrel by big business. Surely it is Ferguson's aim to reveal this truth, and, like all documentaries, you can edit footage so as to best support your argument, but here the conclusions are so obvious that no matter how you spin it, the evil is right in front of you. The arrogance of some of these "insiders" managed to amaze even jaded old me. To allow yourself to be interviewed and then look right into the camera and say that you can't see any conflict of interest when an Economics Professor is paid by a bank to write a favorable opinion vis a vis said bank is astounding. In revealing this slimy good old boys network, where the insiders are all on each other's board of directors, and former bank executives end up as political consultants, or the reverse, when political appointees exit into the private sector and end up working for the investment banks that they were supposed to be investigating should make us all mad enough to demand that the system be forever changed and regulated - a dream that will never happen as these insiders own everyone who can effectively change policy. Such a sobering bit of dismal information - the investment banks knowingly committed fraud that caused millions to lose their pensions, and yet not a single exec has been indicted for any criminal activity - that alone should tell you who really runs the show.
paul sandberg
Super Reviewer
Discussion Forum
Discuss Inside Job on our Movie forum!
News & Features