Inside Monkey Zetterland
(1993)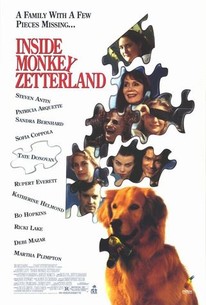 Inside Monkey Zetterland Videos
Inside Monkey Zetterland Photos
Movie Info
Actor Steven Antin wrote the screenplay, and U.S.C. film professor Jefery Levy directed this self-absorbed trifle about a self-absorbed screenwriter and his nutty family and friends. Antin plays Monkey Zetterland, an innocuous young man who is trying to work on his screenplay -- something having to do with the defunct Los Angeles streetcar system -- while a collection of relatives, friends, and neighbors continually interrupt him. His family is a collection of personified neurosis: there is Honor (Katherine Helmond) a soap-opera actress with hemorrhoids who is afraid of being fired; Grace (Patricia Arquette), his lesbian sister who is crestfallen to find that her lover Cindy (Sofia Coppola) is pregnant; brother Brent (Tate Donovan), an anal hairdresser with his elbow constantly bent over a cell phone; and Mike (Bo Hopkins), his Dad, who shows up for Thanksgiving dinner with his pet parrot. But his neighbors are no better: Imogene (Sandra Bernhard) screams to him, "I love you, Monkey Zetterland!"; Daphne (Debi Mazar) complains that Monkey doesn't spend enough time with her; Sofie (Martha Plimpton) and Sasha (Rupert Everett) are a pair of terrorists devoted to blowing up insurance companies that deny insurance policies to HIV-positive patients; and Bella (Ricki Lake), a crazed fan of Monkey's mom.
Critic Reviews for Inside Monkey Zetterland
All Critics (7) | Top Critics (1) | Fresh (5) | Rotten (2)
A charming, sharply written comedy set in L.A., infused with sophisticated gay sensibility.

So odd that it's mesmerizing.

Mountain Xpress (Asheville, NC)
Audience Reviews for Inside Monkey Zetterland
It keeps going with oddities and non sequiturs piling up until it digresses into a half-baked plot about terrorism, the theft of Monkey's script and some street crossfire. Notions of plot only intrude on the mass of wonderful characterizations that best typify this movie.
Lee Mayo
½
**1/2 (out of four) Little independent film with Steve Antin as a young man named Monkey. He is at the center of a circus called the Zetterland family. They are mostly wacko. The strong cast, consisiting of Katherine Helmond, Patricia Arquette, Rupert Everett, Bo Hopkins, and Martha Plimpton, do their best with the so-so material.
Steve Smith
½
A really good Independent film about a man with a life full of twists and turns. Steve Antin stars as Monkey Zetterland, Patricia Arquette, and the rest of the cast make this film enjoyable to watch.
Jeffrey McCurdy
Inside Monkey Zetterland Quotes
There are no approved quotes yet for this movie.
Discussion Forum
Discuss Inside Monkey Zetterland on our Movie forum!