Dean Koontz's Intensity
(1997)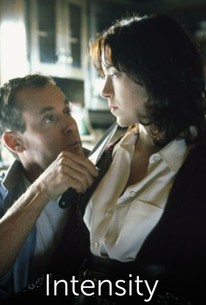 AUDIENCE SCORE
Critic Consensus: No consensus yet.
Dean Koontz's Intensity Photos
Movie Info
A young woman (Molly Parker) finds herself trailing the serial killer she witnessed slaying her best friend's family. Edgler Vess: John C. McGinley. Ariel: Tori Paul. Miriam: Piper Laurie. Ethan: Blu Mankuma. Lori: Lori Triolo. Directed by Yves Simoneau.
Rating:
NR
Genre:
, , ,
Directed By:
In Theaters:
Runtime:
Studio:
Mandalay Mosaic Television Group
Critic Reviews for Dean Koontz's Intensity
There are no critic reviews yet for Dean Koontz's Intensity. Keep checking Rotten Tomatoes for updates!
Audience Reviews for Dean Koontz's Intensity
It's great and true to the book. Served as basis for High Tension in 2003.
Sylvester Kuo
Super Reviewer
½
Alright, so I saw this around three years ago, but what I still remember is how awesome John C. McGinley was in this. I only knew him from Scrubs at the time, but his performance blew me away in Intensity. The rest of the movie is a little sub-par, I remember, but as far as made-for-TV movies go, it's one of the better ones.
Alex Carawan
So intense you'll forget just how bad the acting really is... Okay, so you probably won't, but still... When I saw this listed on the Encore channel I wasn't aware that it was originally a television mini-series. But I sat through this anyway, and seeing as it was presented commercial free, I can't help but wonder if this actually was released on video sometime after airing. Either way, this one is probably hard to come by on video or DVD, and I generally try not to review anything that people won't be able to get a hold of, but I sat through it, so I'm gonna review it anyway. The Story: A traumatized woman witnesses the murder of her friends family. She follows and tracks the killer hoping to save a little girl that's been kidnapped by him. It's filled with suspense, the title of the movie is actually true here, it's surprisingly intense. The biggest fault here (other than the acting), is that it's long. Remember, this is a mini-series so without commercials, it's like three hours. That's long for a movie of this nature. Also, you'll notice where the commercial breaks were in the original cut, and half way through it stops (or at least it did when I watched it on a movie channel), then you get to start the second half, that's not a terrible thing, but the commercial breaks and the half-way point take away from a cohesive feel. But once again, you have to keep in mind that it was originally a mini-series, so the breaks are understandable, but still, for a commercial free re-showing, you'd think they would be nice enough to stick the two parts together. The Cast: John C. McGinley...He's the saving grace of this film. He's in fact, the only reason I watched this film. I know him from Scrubs, and those closest to me, know that Scrubs is one of my favorite TV shows. McGinley is a great actor and the only actor here making this film worth watching or finding. He's intense and he's scary, you'll fear him like no other, as in Scrubs he demands respect, and gives a pretty powerful performance. The rest of the cast is what's to be expected for a made for TV movie, not exactly the greatest...And sometimes, down right forgettable. One to Five Scale: 3 Is it worth sitting through 3 hours? Well, it depends, if you're a John C. McGinley fan than you're definately gonna like this and it's definately worth your time and effort to track down a copy of this film. If you're a Dean Koontz fan and you can't get enough of his work, than this might be worth your time and effort as well. As for the rest of the world, you're better off watching something else and not even worrying about this one. Tyler
Tyler Martinez
Dean Koontz's Intensity Quotes
There are no approved quotes yet for this movie.