Historias mínimas (Intimate Stories)
(2005)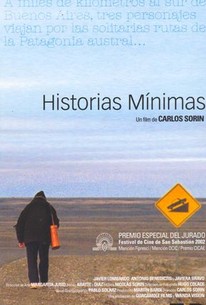 Movie Info
Three people travel from their small home town into the outside world in search of answers and adventure in this bittersweet comedy drama. Don Justo (Antonio Benedictis) used to run a market in a small community in Southern Argentina, but failing eyesight and the loss of his driver's license has led him to retire. However, when he learns that the dog he lost several years ago was seen in San Julian, the closest significantly larger city, Don Justo sets out to find his dog, determined to travel to San Julian on foot if no other transportation is available. Roberto is a traveling salesman who is infatuated with a woman whose husband, one of his clients, has recently passed on. Hoping to win her heart, Roberto decided to bring a birthday cake to her child's birthday party in San Julian; however, his search for the ideal cake is complicated when he realizes he isn't sure if the child is a boy or a girl. Maria (Javiera Bravo) is a wife and mother who has been struggling to hold her family together after her husband lost his job. Maria is invited to appear on a television game show, and hopes to win the grand prize of a new food processor, but while lady luck at first smiles on her, fate has slightly different plans. Historias Minimas received its American premiere at the 2003 Sundance Film Festival.
Critic Reviews for Historias mínimas (Intimate Stories)
Audience Reviews for Historias mínimas (Intimate Stories)
A low-key bittersweet comedy-drama set in rural Argentina. The main characters are 3 simple people who are traveling to a city each for their own reason. Not much happens, but everything in this movie has a truly genuine feel to it. What doesn't seem important to the viewer is a big deal to the main characters, as as in real life, little things make a difference.
Gabriel Knight
½
[img]http://images.rottentomatoes.com/images/movie/coverv/66/381866.jpg[/img][font=Courier New]In the otherworldly expanses of Southern Patagonia, daybreak reaches the charming village of Fitz Roy with a few surprises in stow.[/font] [font=Courier New][size=3]Argentinian film that I found the movie uninspired & too slow paced.[/size][/font] [img]http://images.rottentomatoes.com/images/movie/coverv/00/259900.jpg[/img] [font=Trebuchet MS][size=3]Indian film about a warrior who wants to give up his violent ways and live a peaceful life, but outside forces are working against him. Simplistic plot & mediocre acting.[/size][/font]
Bobbie Murphy
½
This film, set in southern Argentina, follows the crissy-crossy journeys of three unrelated characters from the little village of Fitz Roy to the relatively big town of San Julian, which is almost a full day's trip away. Each character has his or her own reason for making the journey. Don Justo is a retired old guy who spends his days watching traffic go by in front of his little grocery store, which is now run by his overprotective son. When he hears that his old dog, Badface, has resurfaced in San Julian after a several year absence, he sneaks off during the night to find him, making the journey by hitchhiking. Maria is a shy young mother whose name is announced as a contestant on a game show called "Multicolored casino" or, as the announcer calls it, "Casino Multicolorrrrrrrrrrrrr!" She has to be coaxed by her friend to hop on the bus to the studio in San Julian for the opportunity to appear on TV and a chance to win the top prize -- something called a "multiprocessor". A what? I assumed this was some sort of a computer but it was actually some sort of food processor. Oh. The third character, Roberto, is a traveling salesman who's got a crush on one of his customers in San Julian, a young widow. He remembers that she mentioned that her child's birthday was coming up, so he's heading to San Julian with a special cake in an attempt to win her heart by working the old kid angle. Pretty sly, Roberto. The journeys intertwine a bit in towns along the way as the three characters occasionally cross paths. Roberto continually obsesses over the kid's birthday cake and stops at several bakeries en route to have alterations made. Don Justo ends up in a medical clinic with minor health problems and must lay low to avoid his son, who's in hot pursuit. Lots of minor characters come and go along the road, none the sort of quirky oddball characters so popular in indie films these days, but just the regular sort of people you might meet in real life, were your real life set in small town Argentina. I've tried to identify some sort of a theme which ties these three journeys together, but I'm coming up a bit short. All three characters are making Wizard of Ozzish-like trips to San Julian for their own personal reasons. Roberto is seeking love. Maria is seeking fame. Don Justo is seeking forgiveness. I guess they're all taking a little bit of a chance and doing something outside of their normal routines in an attempt to get what they're looking for. Or something. This is essentially a road movie, but a very low-key one. I liked it a lot, even though nothing much ever happens. Or more accurately, [i]because[/i] nothing much ever happens. I think it's out the theatres now, at least locally, so if you want to know how it all turns out, you'll have to rent it. I recommend that you do so.
v h
Historias mínimas (Intimate Stories) Quotes
There are no approved quotes yet for this movie.
Discussion Forum
Discuss Historias mínimas (Intimate Stories) on our Movie forum!