Inugamike no ichizoku
(2006)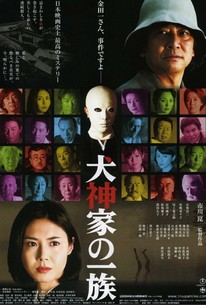 AUDIENCE SCORE
Critic Consensus: No consensus yet.
Movie Info
Precisely thirty-years after first bringing star detective Kosuke Kindaichi to the screen in The Inugami Family, acclaimed Japanese director Kon Ichikawa returns to follow author Seishi Yokomizo's super sleuth on his most challenging case. World War II has recently drawn to a close, and as powerful pharmaceutical executive and notoriously ruthless family patriarch Sahei Inugami (Tatsuya Nakadai) lays dying in his Nasu deathbed, his heirs all gather around to hear the reading of the will. Unfortunately for his eager offspring Sahei expires before summoning the strength to name his heirs, and family lawyer Furadate (Atsuo Nakamura) states that the will cannot be read aloud until all family members are present and accounted for. As eldest daughter Matsuko (Sumiko Fuji) sends for her war-ravaged son in Fukuoka, the lawyer's assistant contacts detective Kindiachi (Koji Ishizaka) with concerns about foul play. No sooner does the assistant voice his suspicions than he drops dead due to poisoning, and the eagle-eyed gumshoe begins working around the clock to crack the case. ~ Jason Buchanan, Rovi
Rating:
NR
Genre:
,
Directed By:
In Theaters:
Runtime:
Critic Reviews for Inugamike no ichizoku
There are no critic reviews yet for Inugamike no ichizoku. Keep checking Rotten Tomatoes for updates!
Audience Reviews for Inugamike no ichizoku
One of Kon Ichikawa's final projects in his career is a remake of his own 1970's film The Inugamis. The original movie stems from the novel by Seishi Yokomizo.
The story behind this film involves murder and mystery and it almost makes one think of a board game to movie adaptation. Don't worry, because this is not as corny as it sounds. At 10 minutes past 2 hours, the pace for this drama mystery is slow. That may not be everyone's cup of tea, but the story is just that darn engrossing.
The film will make the viewer think and pay attention the ENTIRE time. Nearly every minute and every line of dialogue is an integral part of keeping up with the mystery. There are also a ton of characters to keep track of. You may come to notice that one of the main posters and covers of this film shows 25 characters. Yes, there are 20+ characters to get to know in this story. That may sound overwhelming, however, this is where the slow pace really helps. As the movie progresses the characters become easier and easier to remember and recognize.
There is just a hint, every now and then, of overacting, but that doesn't hurt this movie in anyway. In fact, it helps to jazz it up a bit. All the acting is nicely done and so is the camerawork. I just want to point out that Kyoko Fukada appears as one of the side characters. Simply gorgeous.
The Inugamis AKA Murder of the Inugamis is one interesting mystery that hardly bores. Despite the minor flaw of making the viewer analyze too much, this is one good watch for mystery fans.
½
Not as famous as Ichikawa's two war dramas & ofcourse not as good as those but this is an entertaining Drama/Mystery which kept my interest throughout its long runtime
Inugamike no ichizoku Quotes
There are no approved quotes yet for this movie.