Invader Zim - Mini-Disc 2
(2001)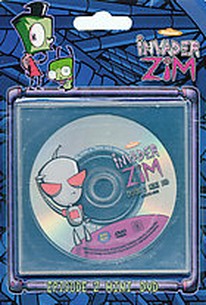 AUDIENCE SCORE
Critic Consensus: No consensus yet.
Movie Info
Rating:
NR
Genre:
,
On DVD:
Runtime:
Watch it now
Cast
Critic Reviews for Invader Zim - Mini-Disc 2
There are no critic reviews yet for Invader Zim - Mini-Disc 2. Keep checking Rotten Tomatoes for updates!
Audience Reviews for Invader Zim - Mini-Disc 2
½
Might as well review a classic. It's animation had a few errors once in a while but is forgiven with its little details in the background and such. I like all of the characters and I can't find one to hate. I'll say my favorite is Dib, the rival against our main character. Speaking of which, the story is interesting but feels like there should have been more to it. Well, I can excuse it considering it was canceled so... It's very dark when you consider that Zim was sent to Earth in the first place because the Tallest wanted him dead or Dib knows that Zim is an alien but no one believes him and call him insane. I could go on and on but it was a good show while it lasted. In fact, the last episode was a Christmas episode so if you consider that... never mind. Like I said, good show.
Shelb Emfield
Personal Score: 10/10 I don't know what the whole "mini-disc 2" up there is about, but consider this my review of the entire 27-episode show. I'll put this simply: Invader Zim is the funniest cartoon I've ever watched. I own the series, and have probably watched it now about 40 times per episode (this may be an over or understatement). Every single episode of this show makes me laugh, and has since I was fortunate enough to discover it 10 years ago. The show features a host of hilarious characters and outrageous situations. The premise of it is that Zim is from a race of aliens called the Irken. The race has their sites set on taking over the entire universe, and their leaders, called The Almighty Tallest (because height is everything to an Irken), assign invaders to bring about the downfall of each planet. In the first episode, we watch as the Tallest perform The Great Assigning. In the middle of it, they are interrupted by an Irken named Zim, who is determined to be assigned as well. We find out that Zim had previously been banished to Planet Food Courtia, but he quit when he found out about The Great Assigning ("You quit being banished?"). Zim is a tremendous thorn in the Irken side, and was even responsible for the devastation of the first attempt to dominate the universe (called Operation Impending Doom 1). But the Tallest quickly decide to send Zim off to a little, unknown, and meaningless planet called Earth, telling him that his is a special assignment. Zim is also given a small robot like the other invaders. These units are called SIR units. But this little robot, created on the fly by the Tallest out of a trash can, calls himself GIR. GIR is, if there's no other reason, why you should watch Invader Zim. He is really cute, completely insane, eats like a college student, and is absolutely HILARIOUS! When Invader Zim and GIR arrive on Earth (after a 6 month trip in which GIR continueously sang the "Doom Song"), they are eventually greeted by Dib, a big-headed would-be paranormal investigator, who also happens to be the only person who believes that Zim is an alien (well, his sister Gaz does too, but she just doesn't care). Dib and Zim are immediate enemies, and watching their hilarious feud throughout this series is tremendously entertaining. Invader Zim is such a great show, and it's really a shame that it was given only 2 seasons. It may have been a bit much for the Nickelodean crowd, but if released today on Cartoon Network I suspect it'd be one of their most popular shows. Every character in this show is really funny and likeable, and for many different reasons. There are also an incredible amount of sight and sound gags littered throughout the 27 episodes (I still discover new ones when I watch). This show also has the funniest Christmas special of any animated show I've ever seen, which also happens to be the final episode. If you've never had a chance to watch this show, then now is the time. It's fun and funny and gets better with each viewing. I wish there was more of it to enjoy, but it's a fact that leaving people wanting more is often the best thing for a show, which is probably why this has such a devoted following, myself included.
Daniel Roberts
Discussion Forum
Discuss Invader Zim - Mini-Disc 2 on our Movie forum!
News & Features