Infection (Invasion)
(2005)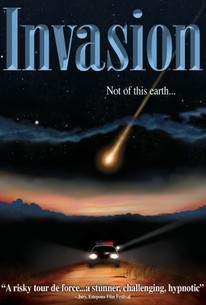 AUDIENCE SCORE
Critic Consensus: No consensus yet.
Infection (Invasion) Photos
Movie Info
Prolific B-movie director Albery Byun (Dollman, Omega Doom) takes the reigns for this tale of a small town overtaken by a highly contagious alien plague on the night of the senior prom. As the local teens party their way through prom night, a meteor crashes to the earth in a small California town, rattling Lawton rancher Larry Jenkins. When Larry puts a call in to the local police, Inspector Bardo is immediately dispatched to the scene to investigate. Upon arriving on the scene, Inspector Bardo is terrified to find that a horrific alien virus has infected the unsuspecting Jenkins. Before he can react, Inspector Bardo is savagely attacked by the rampaging rancher. Now, as the two unwitting hosts make their way into Lawton while viciously attacking and contaminating everyone in their path, adolescent lovebirds Cheryl and Timmy sit perched high atop Lover's Lane completely unaware of the approaching terror. When Timmy is infected, Cheryl is left to fend for herself in the darkened forest. Perhaps if Cheryl can make it to the authorities in time, she can prevent the infection from spreading to LA.
Critic Reviews for Infection (Invasion)
There are no critic reviews yet for Infection (Invasion). Keep checking Rotten Tomatoes for updates!
Audience Reviews for Infection (Invasion)
½
Ok, this is on the Flixster free movie page and listed as a Nicky Kidman film (named "Invasion" too, but this is actually "Infection" - although its not actually that either, its the old worms-in-the-ear-so-now-yer-a-mind-slave routine stolen from the Star Trek franchise!) ... but its not, yah? Instead its a terribly monotonous drive through country roads at night shot entirely on a dashboard cam presumably in a police cruiser, most the action merely audible over the cruiser radio (ala Orson Welles "War Of The Worlds" radio broadcast). This is actually torture, and therein the only horror to this. Escape. Avoid. Run.
Kevin M. Williams
Super Reviewer
½
Infection (aka Invasion) is a very clever concept film. Shot entirely from the view of a patrol car dash cam, it tells a real time story of a meteor strike in a rural town and the biological infection of the town's residents. Great story and well executed, if only by virtue of its uniqueness of perspective. Overall however, there is too much reliance on the visual aspect. If the dialogue were stronger and more descriptive, if it followed the formula of a radio play in telling the story, it would have been a much better film
John Wagner
Essentially a found-footage version of Invasion of the Body Snatchers, Invasion would have been awesome if it had more fully played itself out--the film is technically 81 minutes long but for some reason features an unnecessary twenty-minute long end credits sequence, making it only 60 minutes. Shot entirely from the dash camera of a police car investigating strange events, Invasion is entertaining and creepy in parts with only a few bits of boredom, but it fails to fully follow through and instead abruptly ends at the hour mark instead of proceeding on to a more compelling conclusion.
Al Miller
Infection (Invasion) Quotes
There are no approved quotes yet for this movie.
Discussion Forum
Discuss Infection (Invasion) on our Movie forum!