Invasion of Astro-Monster
(1970)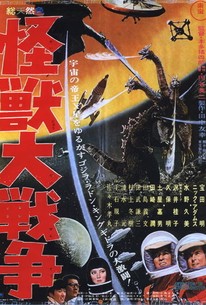 AUDIENCE SCORE
Critic Consensus: No consensus yet.
Critic Reviews for Invasion of Astro-Monster
All Critics (2) | Fresh (1) | Rotten (1)
Trivial sci-fi adventure nonsense, defensible only in that it has been made with unusual care and gravity.
The lip flapping English of the American version is only negligibly more entertaining.
Audience Reviews for Invasion of Astro-Monster
This is a different change of pace for the series, and it displays some new and old ideas to create something, different, yet familiar to fans of the series thus far. This a thrilling film that has a good plot, good cast and wonderful special effects that still look impressive even by today's standards. The film's strength lies in its idea where the main focus is in Space, and it is interested to see what the filmmakers were able to pull off. Although not a perfect entry, this is nonetheless a good little monster flick that is mindless entertainment value. Don't look for a great movie with Astro Monster as it is a fairly ridiculous picture that you need to leave your mind at the door before watching it. Viewers can admire the idea behind the plot, and the thrill of watching two monsters fighting it out yet again. The plot at time lacks, and slows down, but overall the film moves at a steady pace and has enough elements to make for an engaging viewing experience. This is a pretty good film considering its plot, and genre fans will most likely enjoy the film and appreciate its new direction. With each entry, the Godzilla films tried something new, yet familiar at the same time to expand the series eccentric ideas and it works. Godzilla films tend to stretch the limits of ridiculous plot ideas, but that's what makes them fun, entertaining and memorable. Although a lot of them aren't perfect, they still have a secured place in horror history, as effective monster films that push the limits of entertainment value and give audiences something unique to watch.
½
Another great film put out by the Toho Company. This film has so many different names that its easy to purchase duplicate DVD's thinking you have a new film. This is another Godzilla film, this time Godzilla and Mothra are fighting the Monster Zero who is really Ghidrah The Three Headed Monster. I really think that out of all the film titles none really describe the movie, should have been The Return of Ghidrah. I remember as a child after watching the first film of Ghidrah, I watched the sky for days thinking he just might do a fly over of Long Island. In this movie people from the planet X use Ghidrah and Godzilla and Mothra in an attempt to take over earth. The Japanese Version with subtitles is 3 minutes longer then US Version. Funny to see Nick Adams who I remember from Walt Disney Films playing a lead role. This film is from the Toho Master Collection, which is an awesome collection for anyone to own. 3 1/2 stars
Bruce Bruce
Super Reviewer
Invasion of Astro-Monster Quotes
There are no approved quotes yet for this movie.
Discussion Forum
Discuss Invasion of Astro-Monster on our Movie forum!