Invasion of the Animal People
(1962)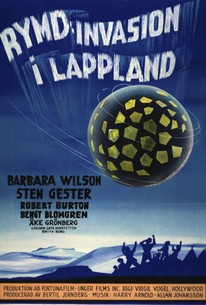 AUDIENCE SCORE
Critic Consensus: No consensus yet.
Movie Info
Diane Wilson (Barbara Wilson) experiences an extraterrestrial visit one night while sleeping, awakening to a horrible, ear-splitting sound that only she can hear. Overcome by confusion, panic, and pain, she runs outside in her nightgown and sees weird lights in the sky. By the time paramedics take her to the hospital, she is catatonic, no longer able to explain what she has experienced. Doctors cannot explain this mystery seizure, since Diane has never shown any signs of insanity before. Could it have something to do with the UFO sightings that were reported the same night as her attack? Before it can be determined, Diane recovers suddenly and completely from her coma, then decides to follow her dream of becoming an Olympic figure skating champion. She moves to Sweden, where she meets up with her uncle, famous geologist Dr. Vance Wilson (Robert Burton), who has ventured there to help investigate a recent meteor landing. Diane is courted by her uncle's associate, the handsome Dr. Erik Engstrom (Sten Gester), though she aggressively plays hard to get. Their romance is interrupted by the discovery of a herd of mutilated reindeer, and the scientists decide to immediately fly to the site of the meteor crash, far north in the Arctic mountains of Lapland. Much to the irritation of the men, Diane stows away aboard their plane, though when it is determined that the meteor is actually an alien spaceship, she realizes just how dangerous a decision she has made. Soon an enormous hairy creature with powerful jaws and massive feet is menacing the scientists and the native Lapland villagers. The beast destroys the airplane, tears houses apart with its bare hands, and causes avalanches. But when this extraterrestrial monster catches up with Diane, it begins displaying tender feelings for the terrified figure skater, and even the elusive pilots of the spacecraft show her kindness. Invasion of the Animal People consists mostly of footage from a Swedish sci-fi film called Rymdinvasion i Lappland that director Jerry Warren bought and edited together with new scenes, plus narration by the distinguished John Carradine.
Critic Reviews for Invasion of the Animal People
There are no critic reviews yet for Invasion of the Animal People. Keep checking Rotten Tomatoes for updates!
Audience Reviews for Invasion of the Animal People
There are no featured reviews for Invasion of the Animal People at this time.
Invasion of the Animal People Quotes
There are no approved quotes yet for this movie.
Discussion Forum
Discuss Invasion of the Animal People on our Movie forum!