Invisible
(2012)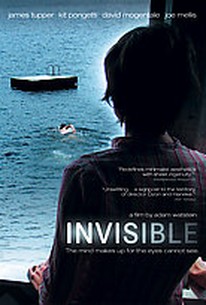 Movie Info
A couple that is currently in the midst of finalizing their divorce travels to their lakeside cabin to retrieve some personal items, only to find their voyage taking a wholly detour in director Adam Watstein's tense thriller. Despite their initial doubts about the trip, the once-happy couple soon begins to recapture the romance they had lost in their marriage upon arriving at their scenic getaway. Their happiest is short-lived, however, when two malevolent strangers show up with a dark plan to test the floundering couple's true commitment.
Rating:
NR
Genre:
, ,
Directed By:
Written By:
On DVD:
Runtime:
Critic Reviews for Invisible
Audience Reviews for Invisible
64% Done in a realistic and believable manner. Nothing brings a couple closer then some craziness and violence.
FilmGrinder Stone
I watch movies everyday, all different genres. This was the worst movie I have ever watched. Boring! The first 20 minutes or more is of the couple in their car, if they said exit one more time! I think the director, Adam Watstein was trying to portray how a couple might argue about driving directions, etc. Poorly done, bad acting!!! Then when they finally get to the house, not much goes on there except Joseph goes for a swim and Jade cries, and then she suggest they go for a walk. Back in the car for another boring drive, where they see the "bad" guy at the market....scary! They end up back at the house where they both go for a swim, while out on the raft, the "scary guy" shows up with his mentally challenged son (I assume it was his son), and he (the scary guy) stands on the dock with his son and stares at the couple out on the raft. Joseph swim towards them telling them, "get the f@#* off my dock!" He says this three times, they just stare at him....now I'm really scared! There's about another 20 minutes or so left in the movie, but I got up and got a snack and played on my computer. I did look at the TV every once in a while to see if anything was happening, but the movie just got worse, if that's even possible. I would be embarrassed, to have anything to do with this movie.....now that I think about it, I'm embarrassed to say that I even watched it. Stupid!
Sheri Yurik
I was hoping for more from this movie. While it does make you wonder what would you do if you had some time before your gone to watch the still living. I mean do you really want to know what people say when your not around? Ummmm . . . . . yep. lol
Connie St. Clair
Invisible Quotes
There are no approved quotes yet for this movie.
Discussion Forum
Discuss Invisible on our Movie forum!