The Invisible Boy
(1957)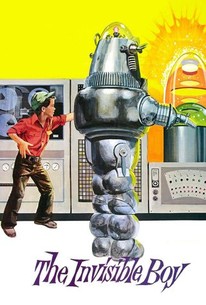 AUDIENCE SCORE
Critic Consensus: No consensus yet.
Movie Info
Dr. Tom Merrinoe (Philip Abbott) is a man at the top of his profession, as the head of the Stoneman Institute of Mathematics, a top-level research facility whose resources include a gigantic super-computer, capable of solving virtually any problem put to it. He works with some of the most distinguished institutes of learning and research in the world, and is presently helping the military launch an orbital space platform vital to the security of the country -- and he can get personal telephone access to the President of the United States on less than five minutes' notice, if the need arises. But his home life is less fulfilling -- he and his loving wife Mary (Diane Brewster) work hard to make a good home, but their 10-year-old son Timmie (Richard Eyer) is more interested in making mischief than studying, and can't be motivated to learn even basic math. Desperate to show him the importance of mathematics, Dr. Merrinoe takes Timmie to his place of work. Unbeknownst to him, however, while the boy is left alone in the lab, the super-computer implants a hypnotic suggestion in Timmie's mind. Suddenly, Timmie shows astonishing skills in chess, as well as both electronics and mathematics, and the first task he accomplishes, apart from beating his father in chess, is to assemble the pieces of a robot that Tom and his colleagues had written off as a pile of useless junk -- supposedly, according to Tom's now-deceased predecessor, the robot and its plans were brought back from the twenty-third century. That mechanical man is none other than Robby The Robot, previously seen in Forbidden Planet -- and suddenly, the boy and the robot are playing pranks and going on adventures together, Robby even providing a way for the boy to turn invisisble, which allows him to get even with one bully at school and to spy on his parents, for which he is soundly punished. But amid the seemingly light-hearted mischief with which he assists the boy, the mechanical man sometimes seems to be following two sets of orders, one from Timmie, and one, a lot more quietly, from the super-computer. Ultimately, the computer and the robot join forces in a plot to take over the space platform and rule the world -- with Timmie held hostage in orbit, and threatened with a slow, painful death unless his father agrees to serve the computer.
Rating:
G
Genre:
, ,
Directed By:
Written By:
In Theaters:
On DVD:
Runtime:
Studio:
MGM
News & Interviews for The Invisible Boy
Critic Reviews for The Invisible Boy
All Critics (2) | Fresh (1) | Rotten (1)
In declaring it ripe for the MST3K treatment, I'm really saying that if you don't like movies, you might have a good time going after this one.
Adults as well as children should be entertained by this sci-fier that succeeds without much technological gadgetry, instead relying on its charm.

Ozus' World Movie Reviews
Audience Reviews for The Invisible Boy
Great for Those Who Love Child Abuse The main "feature" of this movie is watching the poor child getting the hell spanked out of him time and time again for over an hour and a half. It's hard to imagine how someone could allow that to happen. But, it did. The writer, director and actors all seem to be fine with subjecting this child to endless humiliation. And, the actors who portrayed the mother and father seem to really be getting off on it. Maybe they recruited them from Nazis who worked the extermination camps? Or, maybe Catholic priests who were taking breaks from raping children? Hard to know. But, as a child of abuse, this really sickened me. And, it shouldn't be shown, on Turner Classic Movies, or anywhere else. * (1 Out of 10 Stars)
John Miller
½
I liked it, even though it doesn't has as memorable sci-fi scenes as Forbidden Planet, I consider this to be Robby's greatest role. The plot is alright, the characters are decent although the young lead is a bit annoying. The film is a little slow but picks up towards the end. I found myself rooting for Robby ever moment and found the ending quite pleasing. A underrated science fiction gem.
Wes Shad
The perfect B-Side companion to "Forbidden Planet." Both movies tell poignant allegories with very little attempt at technical correctness even by 1950s standards. Pop this gem in your Blu-Ray for an immaculate Science Fiction Double Feature evening. Both come on the "Forbidden Planet" Blu-Ray.
G Richard Barton
The Invisible Boy Quotes
There are no approved quotes yet for this movie.