The Invisible Ray
(1936)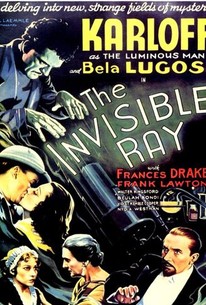 Movie Info
The Invisible Ray a science fiction/horror film directed by Lambert Hilyer is notable chiefly for its ground-breaking special effects by John P. Fulton, who also did the effects for The Invisible Man series. Dr. Janos Rukh (Boris Karloff) using space and time travel, and aided by fellow scientist Felix Benet (Bela Lugosi) searches for a meteor which contains "Radium X," a substance more powerful than radium. Rukh is contaminated by the radiation and kills whoever he touches. Despite a short-term antidote, Rukh finds himself slowly going mad and has paranoid delusions that others are plotting against him, with deadly results. While the story and acting in this somewhat dated horror film are just average, the special effects are outstanding and should be seen by any fan of the genre.
Rating:
NR
Genre:
, , ,
Directed By:
In Theaters:
Runtime:
Studio:
MCA Universal Home Video
Critic Reviews for The Invisible Ray
Audience Reviews for The Invisible Ray
Boris Karloff and Bela Lugosi teamed up again for Universal in this science fiction film (it is actually not really a horror film, despite it's two leads). Karloff plays a scientist who has invented a heat ray (and some kind of looking back in time device), who travels to Africa to search for something he had seen crash on Earth eons ago in his little past device. But while in Africa he starts to glow due to exposure to radium...and goes mad as a result. It is a fairly solid science fiction movie of its time, with a few elements of horror, as is to be expected of Universal in this time period. Decent, but not terrific.
Ken Scheck
Dr. Janos Rukh (Boris Karloff) is an unorthodox scientist who discovers an African meteor containing an alien element. His colleague (Bela Lugosi) harnesses this element for the good of mankind, but the radiation gives Rukh a poisonous touch, an inhuman glow, and a diseased mind. These factors turn into a killing spree when Rukh's perpetually-ignored wife (Frances Drake) abandons him. The Invisible Ray isn't exactly a masterpiece, but it's worth checking out if one likes the Universal horror films of the 1930's. However, if one is new to Karloff/Lugosi pairings, I'd recommend the far superior Black Cat.
Ryan Valentine
An OK movie but I really didn't start getting into it until Karloff started suffering from the effects of the radiation poisoning
Brody Manson
Super Reviewer
The Invisible Ray Quotes
There are no approved quotes yet for this movie.