Io sono Li (Shun Li and the Poet)
(2013)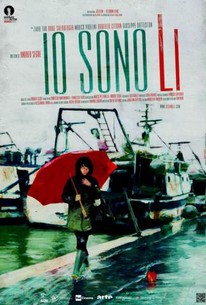 Io sono Li (Shun Li and the Poet) Videos
Io sono Li (Shun Li and the Poet) Photos
Movie Info
Two outsiders become unlikely friends in this drama from filmmaker Andrea Segre. Shun Li (Zhao Tao) is a thirtysomething single mother from China who has come to Italy in the hope of providing a better life for herself and her son. However, Shun Li has partnered with an unscrupulous employment agency that shifts her from job to job and makes it difficult for her to pay her fees so she can make enough money to bring her son to Italy. She works as a barmaid in a shabby waterfront tavern in the fishing village of Chioggia; there, she meets Bepi (Rade Serbedzija), an exile from Eastern Europe who has a fondness for poetry and pens doggerel verse himself. Shun Li shares with Bepi stories of Qu Yuan, China's most celebrated poet, and the two strike up a friendship that has the potential to become something more. However, the Chioggia natives make it clear that they don't approve of Shun Li and Bepi's budding relationship, especially given their suspicions about her Chinese heritage. Io sono Li (aka Shun Li and the Poet or Li and the Poet) earned Zhao Tao Best Actress honors at the 2012 David di Donatello Awards. ~ Mark Deming, Rovi
Critic Reviews for Io sono Li (Shun Li and the Poet)
Audience Reviews for Io sono Li (Shun Li and the Poet)
This is an excellent, small Italian film. Movies are largely of two kinds, escapist, entertainment vehicles and commentaries upon the human condition. Sometimes both ideas can be found in the same film. This is a movie about the human condition. It speaks to the universal human condition across cultural borders. After all, human issues are common to all humans. And, this is why some of us go the movies. Some movies cause us to reflect upon our own lives. They help us to think about our own condition amongst universal human truths. This movie concerns an indentured Chinese woman working in Italy. She meets, and is befriended by, an older retired Yugoslav emigre. He left Yugoslavia when it broke up. Now he is living as a widowed fisherman in Italy. They are both outsiders. Surrounding their friendship, we are reminded of other universal human characteristics. These are those of the darker side of the human animal. Along with the noble aspirations of some humans; others are driven by baser instincts. Here, these include: greed, ignorance, hatred, envy, cruelty, and violence. As if any of us needed it; we are brought to reflect upon the actions of lesser, baser humans. It is probably a good idea, occasionally, to be aware of the total human condition. Still, this film is generally uplifting; and not a total downer. It was good trip to the flics.
ray h
½
What begins as an honest story soon becomes a frustrating experience, unable to generate enough interest due to the lack of chemistry between the two main characters. Besides, it insists on trying to create some visual and narrative poetry where there is none.
Carlos Magalhães
Super Reviewer
Io sono Li (Shun Li and the Poet) Quotes
There are no approved quotes yet for this movie.
Discussion Forum
Discuss Io sono Li (Shun Li and the Poet) on our Movie forum!