Iphigenia
(1977)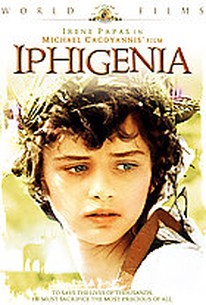 AUDIENCE SCORE
Critic Consensus: No consensus yet.
Critic Reviews for Iphigenia
All Critics (1) | Fresh (1) | Rotten (0)
A talented cast, headed by Irene Papas, give first-rate performances and do wonders with this stirring ancient drama.

Ozus' World Movie Reviews
Audience Reviews for Iphigenia
As I've said before, there is no one better qualified to tell a story than the people who originated it. In this case, the Greeks have adapted a tragedy from one of their well-known ancient playwrights and have given us this gem of a film. Overall, I was very impressed with what I saw here. All of the actors do a great job but there are times when all the emotional yelling and screaming tends to go overboard. But in a tragedy, I prefer too much emotion to too little. The production was especially impressive for a relatively unknown foreign film from the 70's. I thought that the editing could have been slightly better. The pacing is weighed down in parts with one or two too many still shots; a shot of Agamemnon's tent for 10 seconds, a shot of the beach for 15 seconds, then back to a shot of Agamemnon's tent for another 10 seconds, that sort of thing. Despite all this, Iphigenia excels as a presentation of one piece of one of the greatest stories in human mythology. One of the best shots is the very last one. It may mean more to those who have read the stories and know what the eventual end to this story entails. Too bad these guys never made a sequel!
William Reynolds
A solid greek drama-tragedy set amidst figures and events preceding the Trojan War. Besides gorgeous authentic greek landscapes, we also get some serious acting from the protagonists. The style of the movie somehow reminded me of italian spaghetti westerns, with the barren landscape and also a few camera zooms into the eyes of the actors. The story is told in a very theatrical, almost Shakespearean fashion.
Sherwin Liu
All for a Character who Never Even Appears Onscreen The story of Ifigeneia makes very little sense to me, actually, since several other myths make a point of emphasizing that the gods abhor human sacrifice. Why they appear to have made an exception in this one girl's case, I cannot say, but it seems they have. On the other hand, the whole situation of the Trojan War makes the gods do things they would not ordinarily do. The Greek gods were always petty and selfish, but even the very event which leads in to the story, Eris's apple, is extraordinarily petty. For one thing, I've never been entirely clear on how any of the goddesses could think themselves more beautiful than Aphrodite, whose whole job basically consisted of being walking sex. I believe it is Isaac Asimov in [i]Words From the Myths[/i] who points out that, while Paris is perfectly willing to accept the bribe Aphrodite gives him--surely the bribe which would best please such a young man anyway--it doesn't really matter, and if they'd left him to his own devices, he almost certainly would have made the same choice anyway. Paris, as we know, was bribed with the gift of the most beautiful woman in the world. She is Helene (beautiful woman never appearing in this picture), sister of the not-as-lovely Klytaimnistra (Irene Papas). She married Agamemnonas (Kostas Kazakos), late one of the suitors for Helene's hand. He is also the brother of Menelaos (Kostas Karras), who actually did marry Helene. All the men who had pursued her had sworn to defend her should anything happen, and this involves them going off to Troy to take her back from Paris (also not appearing in this film). Only the winds won't blow to take the ships to Troy and to war. An oracle tells them that this is because Agamemnonas has slain a sacred deer. In order to atone for this, he must sacrifice his beloved daughter, Ifigeneia (Tatiana Papamoschou). He sends for her on the pretense that she will be married to Ahilleas (Panos Mihalopoulos), and even though he sends word that she must come alone, her mother brings the whole bridal party to celebrate, only to discover that there is to be no marriage. Irene Papas is the famous one here, and so she gets billing. (It almost would have been easier to search the film under her name, because Rotten Tomatoes is somehow stroppy about the spelling of the title, despite the stupid bits of what they'll bring up when you're searching less obscure stuff.) However, even given the beautiful and intense performance she gives, it is Tatiana Papamoschou who steals the picture. She is extraordinary. At the beginning of the film, she is sweet and innocent. A daddy's girl. She is delighted at the prospect of marrying someone so strong and handsome, so brave and modest. However, when it becomes apparent that things are not going to happen the way she thinks they will, she becomes stronger and more determined than, frankly, anyone else in the film. She is going to do for Greece what apparently must be done, to atone for her aunt's mistake. She does not necessarily understand why all these men are so determined to go to war over the whole thing, but if they are going to, she must serve as well. There is nothing supernatural about this movie. We never even really see the oracle. These people believe in their gods. Their gods are a fact of life. Hell, half the cast can track their lineage to one god or another, most notably Ahilleas, whose birth started the whole thing. (Chronology of the Trojan War is more than a little complicated, given that he is old enough to fight in it.) There is no implication in the film that the gods do or do not exist, though the wind does begin to blow at the end. However, the characters assume it implicitly. It would never occur to any of these people to question the existence of the gods, not even Klytaimnistra in all her raging against her husband and the oracle. She is angry at the gods, but she does not argue their existence. They are there, at least there enough to be cruel--but it is the validity of the oracle she is more likely to question. I have said for some time that one of the great joys of my movie project is the odder little byways of film I encounter along the way. I'd never even heard of this movie before it showed up in my trolling through the catalog. This is in part because Greek film is not exactly a focus of most books on the subject of cinema in general. I imagine I could have found it doing a troll through the Academy archives instead--it lost the 1977 (I don't know why Rotten Tomatoes says 1979) Best Foreign Language Oscar to a French film I haven't heard of, either--but no casual searching, I think, would have brought it to notice. This is a film you have to either seek out or have brought to you by involved searching for something else. And, indeed, it's worth the finding. Many of the films I watch for this project are not at all, but I look at it as the price I have to pay for finding ones which are.
Edith Nelson
Iphigenia Quotes
There are no approved quotes yet for this movie.
Discussion Forum
Discuss Iphigenia on our Movie forum!