Iran: A Cinematographic Revolution
(2007)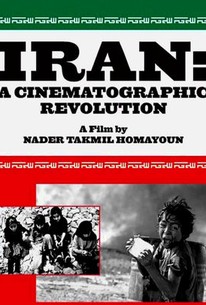 Movie Info
Documentarian Nader Takmil Homayoun delivers a plenary eulogy to Persian cinema - its fullest to date - with Iran: Une Révolution cinématographique. Over the course of 98 minutes, Homayoun follows the evolution and shifting stylistic currents of Iranian film over the course of 70+ years, as those changes parallel the country's mercurial political history. The picture thus features a dazzling array of clips from Iranian documentaries and feature films, intercut with interview footage that offers insights from the country's most esteemed directors and film historians, including Fereydoun Goleh, Bahman Ghobadi, Amir Naderi and Dariush Mehrjuï. Homayoun begins in 1933, with the country's first sound film, the mischievous and ironic parable Haji Agha, the Cinema Actor. He then moves forward in time, through the prevalence of escapism, the rise of social realism, the 1970s Iranian New Wave and a more recent poetic approach to cinema, typified by Saless's A Simple Event. Homayoun also reveals the political prescience of specific titles, such as Journey of the Stone, which predicted the 1979 Iranian revolution, and he sheds light on the irony that the government's somewhat tyrannical laws forbidding the importation of American cinema had a positive side effect: they forced Iran to develop an entire culture of indigenous filmmaking. ~ Nathan Southern, Rovi
Rating:
NR
Genre:
, , ,
Directed By:
Written By:
On DVD:
Runtime:
Critic Reviews for Iran: A Cinematographic Revolution
Audience Reviews for Iran: A Cinematographic Revolution
[font=Century Gothic]"Iran: A Cinematographic Revolution" is a fascinating documentary about the history of Iranian filmmaking, starting with "The Cinema Actor" in 1933. Of special interest are the movies made during the reign of the Shah and the current Islamic Republic and how the directors have dealt with censorship under the two regimes. Strangely enough, the movie treats the current repression kinder(which is ironic considering movie houses were burned when they first came to power), as former government ministers are interviewed along with directors whose films are discussed and clips are shown from. There is also archival footage of the times and momentous events which acts as a background to the main narrative. The Shah wanted an image of Iran as prosperous whereas the Islamic Republic is much more interested in a religious view and especially wants children, nature, Persian poetry and traditional values on display which certainly explains "The Willow Tree." But women need not apply. At the same time, directors possibly influenced by neo-realist films have been interested in showing the Iran they know, especially Bahman Ghobadi who has taken a special interest in Kurdistan.[/font]
½
They interviewed a female director and no one even mentioned she was a woman - and we're the ones that don't oppress women!
Courtney Smith
½
Not perfect, but a good introduction. I learned a lot about the PRE-new wave films I didn't know of prior.
Paul Narvaez
Iran: A Cinematographic Revolution Quotes
There are no approved quotes yet for this movie.
Discussion Forum
Discuss Iran: A Cinematographic Revolution on our Movie forum!