Iraq for Sale: The War Profiteers
(2006)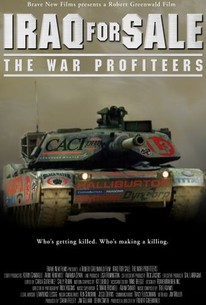 Iraq for Sale: The War Profiteers Photos
Movie Info
Join documentary filmmaker Robert Greenwald (Wal-Mart: The High Cost of Low Price, Outfoxed) in assessing the damage done to average Americans when corporations decide to wage war. For critics of the current administration, the connection between the war in Iraq and the private corporations who profit from the fighting is plain to see. For those who may not be so easily convinced, however, Greenwald and company not only explore the questionable motivations of the corporate decision-makers whose wartime profiteering has affected the lives of countless soldiers and their families, but also the increasingly negative international reputation of the United States as a result.
Critic Reviews for Iraq for Sale: The War Profiteers
Audience Reviews for Iraq for Sale: The War Profiteers
A very good documentary about the no-bid contracts companies like Blackwater have been awarded. The kind of stuff that has been happening for years, what Eisenhower warned us about, but is never fully investigated as I believe there is a third wing to that collusion - media.
D M
This movie should make you angry no matter what your political affiliation. It got a lot better towards the end...
Sarah Prisbylla
Super Reviewer
½
I actually still need to see this movie. I went to Iraq as a civilian contractor for one year. My dad served for 22 years in the Army- went to Iraq too- and is now a civilian contractor over there. People go there to make money. The project I was on had clear goals. Worked hand in hand with Iraqis. There is no doubt that money is wasted. The Govt. funds massive projects that they most definitely shouldn't. Every contractor I worked with knew the danger they faced. No one was STUPID enough to think it was "safe". Anything can happen over there. There were soldiers that were pissed and that were indifferent about the civilians. Yes, they make more money. That is the Govt's doing. They are allowing these private corporations over there with huge contracts. Iraq has decades to go before it can effectively use the skills, equipment and depots that these contracts have spent billions on. Premature mos def.
Pheasant Weber
Iraq for Sale: The War Profiteers Quotes
There are no approved quotes yet for this movie.
Discussion Forum
Discuss Iraq for Sale: The War Profiteers on our Movie forum!